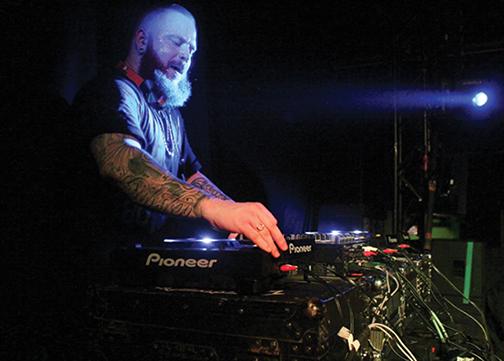 At the age of 26 producer Troy Beetles, better known as Datsik, has already established himself in the entertainment industry as an artist as well as the founder and owner of his independent label, Firepower Records. Last Wednesday, March 11, Datsik's Ninja Nation Tour made its stop in San Diego along with Kennedy Jones, Fox Stevenson, Truth and DJ Paul Kom.
The show, originally supposed to be held at Soma, got moved five days prior to the event. The Ninja Nation Tour filled the three-stage set up at Somewhere Loud — one of San Diego's up-and-coming venues for electronic music. The venue change was a small disappointment at first until Somewhere Loud's setup for the Ninja Nation Tour proved satisfactory. Three DJs played throughout the night, filling the small venue with booming sound and good vibes coming from San Diego's close-knit rave community.
Datsik's label, located in the backyard of his Los Angeles home, has already signed multiple artists in the EDM world, some of which were featured in his four-month-long tour. While resident DJs at Somewhere Loud took over both side stages, the line-up in the main stage progressed from New Zealand DJ duo Truth, the U.K.'s Fox Stevenson, the musically versatile Kennedy Jones and special guest MC-performer DJ Paul Kom, all coming on stage to open for Datsik's much anticipated set.
Datsik's hip-hop influence on American dubstep was evident throughout the progression of artists and the different fusions of dubstep and electro being mixed. Since Datsik's beginning in 2009, he has been able to produce an enterprise, allowing him to be his own boss. Six years later, his independent label still lives on to support artists with the same ideals as him.
The Ninja Nation Tour exposed a little more of Datsik's real persona. Not only did Datsik go all out with his "Down 4 My Ninjas" album release this past November and its promotional tour this year, his partnership with V Squared Labs and PK Sound also brought amazing visuals and some booming bass to the tour, respectively. The small space in which the opening acts had to perform was a bit puzzling until the unveiling of Datsik's Vortex Lumen — a speaker-shaped cone larger than 10 feet in diameter, built in collaboration with V Squared Labs. The Vortex produced hypnotizing visuals which kept the dancers going until the end.
Aside from the constant drop of beats and funky dance music, a fire-breathing circus act dominated the outside stage floor prior to Datsik's appearance.
LED finger gloves from Emazing lights were available for sale by the front entrance and dancers brought light-up hula hoops, putting bystanders in awe.
Overall, Ninja Nation Tour's show at Somewhere Loud impressed and also gave the public an idea of what Datsik is really all about.