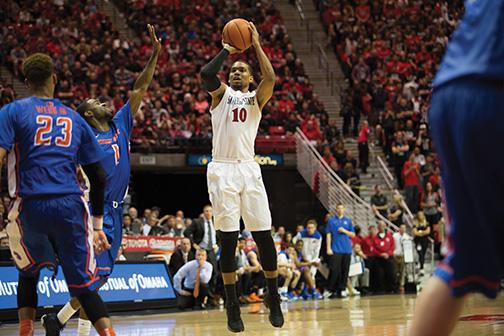 St. John's University junior forward Chris Obekpa stands 6-foot-10 and weighs a sturdy 240 pounds.
He's fifth in the country with his 3.13 blocks per game and had six games with at least four blocks in Big East play.
He forces defenses to pay attention to him in the paint, creating open 3-pointers for a team full of athletes that shoot the long ball at a 35.3-percent clip.
He also won't be suited up when San Diego State plays St. John's in both teams' first game of the 2015 NCAA Tournament this Friday night in Charlotte, North Carolina. The New York Post reported two days ago that St. John's suspended Obekpa for two weeks after he tested positive for marijuana.
Without Obekpa, St. John's has no player taller than 6-foot-6 who averages nine or more minutes per game.
SDSU, on the other hand, has six players in that same category.
But height matters little once a player releases his shot, and this St. John's team is full of shooters and nimble guards, and the team's 71 points per game can compete with even the most SDSU-esque defenses.
"(St. John's scores) in a lot of different ways," SDSU head coach Steve Fisher said on Tuesday. "They make hard shots and they're a hard team to guard. That will be our challenge: make sure they don't get a lot of easy baskets, especially in transition."
Leading the Red Storm's offense is senior guard D'Angelo Harrison — who just so happens to be junior forward Winston Shepard's good friend.
Harrison scores nearly 18 points a game while only turning the ball over 1.7 times. He shoots the long ball better than any Aztec with at least 50 shots (37.6 percent) and also grabs 5.4 boards a game.
What's most impressive about Harrison, though, is his ability to draw contact and get to the charity stripe at James-Harden-like rates (42 more free-throw attempts than anybody on SDSU's roster). He makes 80 percent of his free throws.
Harrison won't be doing much defending in the paint, though. Without Obekpa, that responsibility will fall on the shoulders of 6-foot-6 senior forward Sir'Dominic Pointer and 6-foot-9 freshman forward Amar Alibegovic.
Pointer is St. John's J.J. O'Brien in the sense that he is good at everything he does — and he does a lot. He scores 13.5 a game to go along with 7.6 boards, three assists, 1.9 steals and 2.4 blocks per game. He also leads his team with his 52.2-percent clip from the field and is second on the team with his 72.4-percent clip from the line.
He'll be undersized in the paint against junior forwards Skylar Spencer and Angelo Chol, but O'Brien is often undersized, too, and Aztec fans have seen how effective he is.
Alibegovic only played 8.5 minutes per game this season, but he saw more court action as the season progressed and averaged 10.2 minutes in Big East play. He had his best all-around game in a 77-74 loss at Creighton University when he scored five points to go along with three rebounds in 17 minutes.
More of Obekpa's minutes will go to Pointer, but St. John's will need Alibegovic to also be a "next man up" to compete with SDSU down low and provide open up the 3-ball for its shooters.
Beyond being SDSU's first bout in the Big Dance, this game is intriguing because it's senior forward Dwayne Polee II's first game against St. John's after he transferred away from New York to SDSU the summer after his freshman year.
"When I was there, there were different coaches," Polee said. "And when I was a freshman, there were 10 seniors. So the team has a completely different makeup now … I'm not going to put too much pressure on myself thinking about St. John's. I just want to go out and live in the moment of being in the tournament because there's a lot of schools that aren't fortunate to be in this position."
This game is slated to start at 6:40 p.m. PST on CBS on Friday night. Fans can also listen in on The Mighty 1090 AM.