Ruffin, Poole to hit field for pro day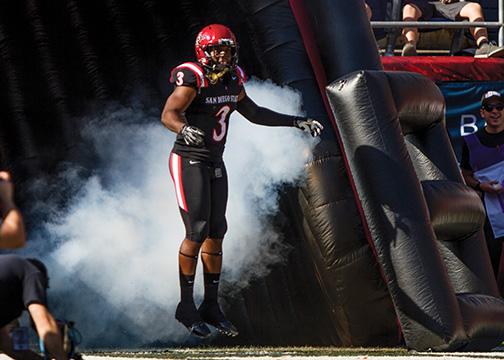 The San Diego State football team will hold its pro day on Thursday and the most intriguing workout won't be from an Aztec.
Yes, that's right. Quarterback Chris Bonner of Colorado State University, Pueblo will throw at the SDSU pro day. Not only is he the most intriguing player at the event, he is one of the more intriguing players in the country.
A graduate from local Clairemont High School, Bonner, who towers at 6-foot-6, spent time with local Grossmont Junior College before heading to CSU Pueblo where he flashed his arm strength and surprising mobility for a guy his size.
While he did not receive an invite to the combine he has already participated in University of Colorado Boulder's pro day and gets another crack to work out in front of scouts at SDSU.
Some mock drafts have him in the 5-7 round range, but in a draft class that's top heavy in quarterback, he may be able to shoot up the board.
As for the Aztecs, it will be a two man show consisting of wide receiver Ezell Ruffin and offensive lineman Terry Poole.
Both were the only Aztecs to be invited to the NFL Combine and were the only players invited to a postseason all-star game (East-West Shrine Game).
For Ruffin, 2014 was supposed to be a breakout season in which he jumped out onto the national scene.
That wasn't the case, though, as a broken collarbone suffered during the second week of the season kept Ruffin from having the kind of season he was capable of.
He even missed the team's Poinsettia Bowl loss to the Naval Academy due to missing practice during the week.
Nonetheless, he was still given an invite to the NFL Combine. However, the combine played out much like his season did. Ruffin had hoped to run a 4.5 40-yard dash but he fell short, running a 4.68 official time as his best run.
That placed him on the lower end of a deep wide receiver class.
Two things still work in Ruffin's favor, though, moving forward.
Watching game tape it's not too hard to see what Ruffin's greatest asset is: his hands.
Even though he played just seven games last season, he still led Aztec receivers with 26 receptions. He also added a couple "circus" catches throughout the season.
The other thing working in his favor is that he will get a chance to improve that 40-yard dash time during his pro day — a much more comfortable environment.
Even with a good pro day, it looks like Ruffin will need to make his way on a team as an undrafted free agent, as he is ranked No. 54 among wide receivers in his draft class according to NFL.com.
While Ruffin was somewhat of an enigma this past season, Terry Poole was a stalwart on the Aztecs offensive line, serving as the team's left tackle.
Poole has a high motor and you could routinely see him finishing off plays longer than his fellow lineman most of last season.
He displayed that high motor at the combine where he ran a 5.09 official 40-yard dash — the fifth best out of all offensive lineman.
The knock on Poole though is his heavy feet, which hinder his lateral movement and may make him a better fit as a guard in the NFL.
While he is ranked No. 16 out of tackles in his draft class, according to NFL.com, some mock drafts have him going between rounds 5-6.
The true determination of his draft position will be on how a team views his upside in a move to guard.
The Aztecs' pro day, where the most intriguing prospect isn't even on the team, somewhat mirrors how their lackluster season unfolded.
However, with a lot of talent coming back, including junior running back Donnel Pumphrey and junior linebacker Calvin Munson, there is a lot to look forward to for future pro days.