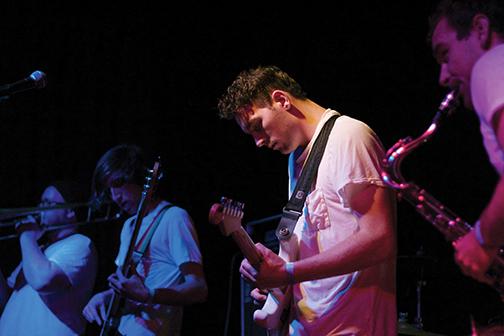 San Diego has always been a breeding ground for unique local music. One local band that has been spreading its infectious grooves throughout the city is a six-member collective called Neveready.
Drawing inspiration from other bands that got their starts in San Diego, such as Rocket From The Crypt, Neveready combines multiple genres, such as ska, rock, funk, soul and occasionally hip-hop to create its eclectic sound. The combination of its musical artistry and high-energy, on-stage antics is what makes Neveready truly stand out amongst a sea of other great bands in San Diego.
Comparable to the way that the surf-punk genre has recently taken off in San Diego with bands such as The Frights, Neveready began in early 2010, when ska music was a staple at local music venues. Declan Halloran, San Diego State sociology junior, is the band's founding drummer and remembers when Neveready first began.
"We originally started out five years ago doing ska, because that's all we could kind of think of for the horns section," Halloran said. "When we started playing a bunch of ska shows in town we realized that everybody sounded the same and so we started to mix it up."
Since its first album "Soulidify" was released in late 2011, the band has matured significantly. Halloran said the band is currently taking the route to have the ability to play any party.
"We're trying to evolve Neveready into being a band that can play a constant hour and a half, pretty much non-stop, dance music" Halloran said.
Throughout Neveready's existence, the boys have all balanced other projects and school work. With one of its saxophone players currently pursuing his musical career in New Orleans, Neveready is currently composed of Halloran and five of his buddies, several of whom he met while attending La Jolla High School.
Two of Neveready's members, trumpeter Kody Knode and bassist Jay Sanchioli, currently attend SDSU with Halloran, while the band's lead singer and guitarist Christian Clark recently graduated from University of California, Berkeley and tenor sax player Pat Hallahan graduated from Cal Poly San Luis Obispo this past December. Neveready's trombone player Adam Vickers currently works at a local brewery, and the band also occasionally features rapper Kwamé Badu, who lends his vocal talents on one track called "Can You Dig It?" from the band's first album.
Besides playing music with Neveready, the band's talented musicians are also all involved with other projects.
"I know Jay (Sanchioli) is in a ton of other bands, and Kody (Knode) does marching band and pep band here at SDSU," Halloran said.
Clark, Hallahan and Halloran, who write the majority of Neveready's music, have also been working on another musical endeavor together called Pumphouse, which Halloran says is more "gritty sounding" and more "rock 'n' roll oriented."
"It's kind of hard to get six people together," Halloran said. "We were writing songs that wouldn't necessarily fit with Neveready and would fit more with a three or four piece."
Although the band's members are involved with other projects, Halloran says that the band is still always working on new music and ways to perfect its sound.
"You want to make sure the songs don't sound like they were written the day before," Halloran said. "The best teller if a song is good is when you play it at shows and people like it, and when it sounds almost the same as the recording. You want people to be intrigued by the recording but also have a good live element."
Neveready's live performances definitely pack a punch for their audiences. The band has played countless shows at San Diego venues such as Soma, The Casbah, and the Adams Avenue Street Fair, and it has always worked to build a relationship with its audience through its energetic performances.
"We try to involve the crowd a lot because when band's go up there and they're doing their thing, sometimes it's like they're in another universe and they're not to be touched," Halloran said. "When you jump into the crowd and get people singing along or get people riled up for a sax solo, then it feels like they're a part of the show. I feel like every band should be like that."
Neveready is a local band that continues to grow professionally while maintaining its rambunctious spirit and love of music. The band's music is available on its Bandcamp and iTunes. Its most recent extended play "You're Gonna Find Out Soon" is out now and sold wherever the band plays a gig. Shows are expected throughout the summer, so Aztecs should definitely keep their eyes peeled for Neveready and the other projects the band's skilled musicians are involved in.
"Neveready's the band that will always be there," Halloran said. "We don't want it to end because it's always a lot of fun."