SDSU football practices with shoulder pads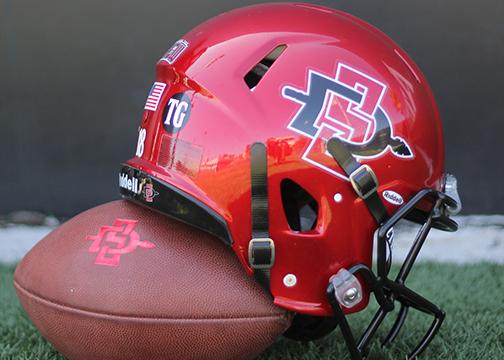 Saturday marked the first time the San Diego State football team practiced with pads on, although they were just shoulder pads.
After the team's third practice heading into the 2015 season, one big question remains: Who will be the quarterback?
There's still no answer.
Head coach Rocky Long mentioned at the Mountain West media day that the battle is between sophomore Christian Chapman and senior transfer Maxwell Smith.
Smith's throws were crisp Saturday while Chapman showed off his mobility and seemed comfortable within the offense.
Fely healthy, impact felt beyond field
A bright spot entering camp is the sight of the long hair and No. 42 worn by senior linebacker Jake Fely, whose season was cut short last year by a dislocated wrist.
Fely says he's 100 percent and is making an impact on and off the field.
He was one of several players, including junior linebacker Calvin Munson, who stayed after practice to watch newcomers run through drills.
"We play in a very confusing defense, so I just want to come out here and help the young guys become acclimated with the system," Fely said. "When I was a freshman I didn't get a lot of help from the seniors, so I want to do what I can for the younger guys while I'm here."
Fely doesn't have to be told twice to put pads on. Even though the team was just in shoulder pads, he relished the opportunity.
"You know me, I love to put the pads on and start hitting," he said with a smile. "I had a dream when I got my extra year that I would have one more full year, now I'm getting that chance."
While Fely was out last season, Munson flourished and helped anchor a defense that carried the team.
Now, Fely will get the chance to play alongside Munson, whom he saw talent in from the moment he put on the red and black.
"You can tell certain people just have that athletic ability and feel for the position, Fely said about Munson. "He's amazing; I'm excited to play alongside him this year."
Fely noted freshman offensive lineman William Tuihalamaka and junior linebacker Austin Wyatt-Thayer have impressed early in camp.
New faces on the O-line
Junior running back Donnel Pumphrey will have some new offensive linemen clearing space for him this year.
Terry Poole graduated and was selected by the Seattle Seahawks in the 2015 NFL Draft. Last year's center, Lenicio Noble, was dismissed from the team and last year's starting right guard, Darrell Greene, was suspended for the first six games this season.
Greene is still practicing, though, and offensive line coach Mike Schmidt is using him in certain capacities.
"He has a role and he knows the offense real well," Schmidt said. "I can trust him out there while I'm evaluating the younger guys."
As far his replacement, Schmidt still needs some time to figure that out.
He listed senior Robert Craighead, sophomore Sergio Phillips and freshman Joe Salcedo as three guys battling for the spot right now.
Craighead was listed as second-string behind Greene after spring practices.
At center, junior Arthur Flores — who hasn't played a snap of college football — is listed at the top of the depth chart.
Schmidt said that junior Austin Maass and Phillips could help, as well.
Schmidt doesn't know what quarterback they will block for, but that doesn't worry him.
"They mesh well with all the quarterbacks, it's more about communicating within each other," he said. "When the quarterback comes in, it will just come down to a timing, sequence thing."