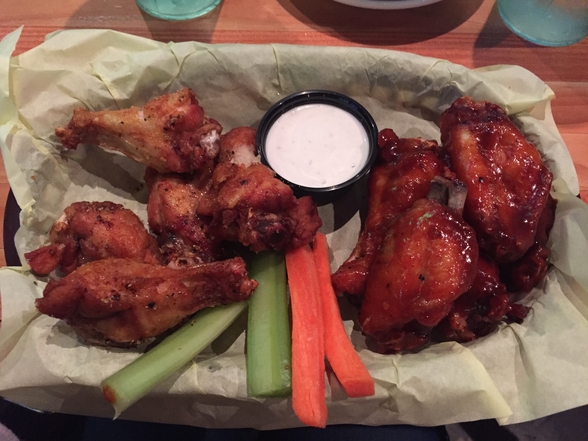 From Pacific Beach to El Cajon Blvd., wings have quite the reputation.
Dirty Birds is a locally owned sports bar and grill that offers over 33 different types of award-winning wings.
And that isn't just talk, as the restaurant was awarded for having the best wings in San Diego for three consecutive years, according to San Diego City Beat.
Their wings come in 33 flavors, ranging from garlic herb to habanero lime. Each sauce is rated on a heat scale, which escalates from green, to yellow, to red, to double red, in case you're feeling extra adventurous.
One plate of five wings, with one flavor is $7, while a plate of 10 wings, with two flavors is $14. The customer has the option to choose a different sauce ever five wings. Each plate of wings is served with ranch, celery and carrot sticks, as all wings should.
"My food was delicious and extra spicy since I ordered the Ghost Wings," hospitality and tourism management freshman Angela Palencia said. "Our food was prompt, which was equally impressive."
But from 11 a.m. to midnight, Dirty Birds does not stop at wings.
Dirty Birds also offers sandwiches, salads, pizzas, and much more. Although wings are the main focus, there are still options for vegetarians and meat lovers. As for drinks, they serve an array of sodas, beers on tap and a craft cocktails at their full service bar.
Although the venue is small with what feels like little seating, customers can enjoy their meal comfortably especially with the large bar.
Dirty Birds advertises daily deals, which are easily visible on chalkboards hanging from the ceiling. The restaurant also offers an app, which allows users have access to their menu, discount rewards program and other features.
"They have really great weekly deals and even though it was a sports bar, it was comfortable enough to just go in and eat," Palencia said.
Some deals include, all you can eat wings for $14 on Monday 6 p.m. till close, half off wings and select pitchers on Tuesdays, half off pizza on Wednesday.
Also, if you feel like you want a wing, but can't fly, Dirty Birds also delivers.
Dirty Birds is said to have a third location opening in Liberty Station in the near future.