Baseball helping Gwynn's cancer recovery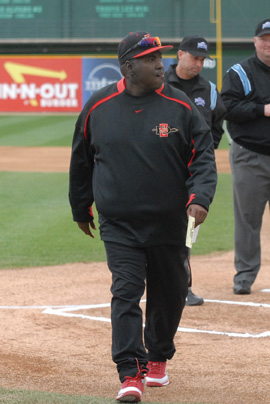 Tony Gwynn has yet to receive a definite answer from his doctor.
The head coach of the San Diego State baseball team was told last week he is doing well, but won't know for awhile whether he still remains cancer-free.
"At this point, I just hope to hear good news and just go on," Gwynn said. "I don't even think I could say I'm cancer-free, you just kind of hope that things are progressing the way you want them to."
Gwynn has come a long way in his bout with parotid cancer. Last August, doctors discovered it while doing their third round of operations to remove a tumor on Gwynn's parotid gland. After another surgery to remove lymph nodes and tumors in the area, he endured eight weeks of chemotherapy and radiation treatments. He finished in late December and then worked his way back to resume his coaching duties at SDSU.
However, the battle continues for Gwynn as the Aztecs continue their 2011 season. He still has to return to the doctor's office for tests to determine if he's cancer-free. Last month, it took three different trips for him to finish an MRI.
"It's hard for me because I can't lay still, I gotta do something," Gwynn said. "When you get your radiation, they clamp your head down so you can't move so they can get a straight shot at whatever they have to shoot. MRI's are kind of the same thing. I just move around too much, but I know I have to do it."
This may be the case, but Gwynn said he has to be drugged so he can complete the MRI. It has become part of an ongoing process though, as he continues his fight against cancer.
While he has yet to receive his results, he hasn't been focusing on that lately.
"I haven't been sitting here worrying about it," Gwynn said. "But I think I'll feel good if he does say that (I'm still cancer-free)."
In the meantime, he has gone about business as usual. When SDSU isn't practicing or playing, Gwynn has found time to do something he enjoys: color commentary. Along with Dick Enberg and Mark Grant, he has rejoined the San Diego Padres Channel 4 broadcast team. He was unable to make it to Opening Day because the Aztecs were playing Long Beach State, but he was there the next day talking about the team he was part of for 20 years.
"I did all right; I think people could understand me," Gwynn said. "I was kind of concerned because my mouth isn't working 100 percent yet. But I think people can understand the enthusiasm I have, because I love baseball."
Gwynn's passion for the game is just as apparent at the stadium bearing his name.
He could be found last Thursday enjoying the company of his fellow coaches as practice finished up for the afternoon. He flashed his characteristic smile and bellowed his recognizable laugh as he's done on the baseball field so many times before.