The Observatory North Park was home to an inclusive night of rock and roll when Florida punk band Against Me! took the stage on Saturday, Sept. 16.
This was the second time the band has performed in San Diego this year, having opened for Green Day back in April at the Valley View Casino Center.
The evening started with a bang when Los Angeles indie rock act Bleached played an opening set featuring songs from its excellent 2016 album "Welcome the Worms," including the Go-Go's-inspired track "Sour Candy," getting the crowd moving and ready for the rest of the night.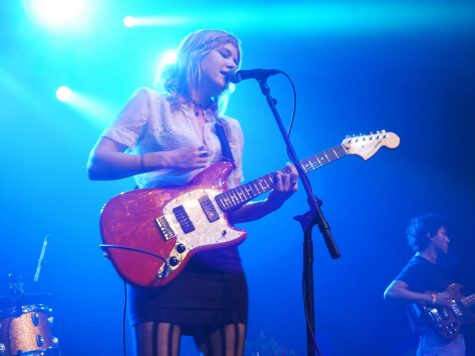 Against Me! took center stage in true punk rock fashion—with total urgency and vigor, beginning their set with "True Trans Soul Rebel" from its 2014 record "Transgender Dysphoria Blues."
"Does God bless your transsexual heart?" frontwoman Laura Jane Grace sang vehemently to the crowd.
The song, along with the rest of the album, explores Grace's gender transition and coming out in the years prior, as she served as band's lead vocalist and songwriter before and after her transition.
Starting off the show this openly set the tone for the rest of the night—Against Me!'s brand of punk creates a safe space to ask the hardest, though largely ignored questions, and is incredibly liberating in doing so.
The rest of the night mixed Against Me!'s publicly known political outcries with some pure fan service, performing a slurry of favorites and deep cuts from its 15-year discography.
"(Against Me!) really makes the most of its time onstage," international security junior Brandon Battaglia said. "You can tell they've been doing it for a long time, but they still keep it fresh and exciting."
Following "True Trans Soul Rebel," Grace belted a performance of "I Was a Teenage Anarchist" from Against Me!'s 2010 record "White Crosses," with her signature booming growl never faltering.
From the get-go the crowd's excitement fed off the unwavering energy from the band, moshing and shouting along to every word.
Several fans, the number standing well into the double-digits by the end of the night, were pulled out of the audience by security for crowd-surfing, proudly flashing the devil horns hand symbol while being scolded.
Fans were especially thrilled to hear songs all the way back from Against Me!'s first album, 2002's "Reinventing Axl Rose," such as "Jordan's First Choice" and "Those Anarcho Punks Are Mysterious…"
However, the quartet did not ignore their most recent record, last year's "Shape Shift with Me," either, playing new tracks like, "Haunting, Haunted, Haunts," "Delicate, Petite, and Other Things I'll Never Be" and "333" to an equally enthusiastic crowd.
The dedication to new and old music also reflected the age range of Against Me! fans present at the show, from middle aged parents, some of whom brought their small children, to younger fans in their teens and twenties who most likely followed the band through their formative years. This diverse display of fandom once again hit home what it is about Against Me! that is extremely appealing—their unique and underrepresented personal and political themes relate to so many people.
A major highlight of the night was when Grace traded her electric guitar for an acoustic to play a more upbeat, and wonderfully resonant rendition of The Replacements' "Androgynous."
"This song is about an ideal world," Grace, a publicly noted Replacements fan, said to the audience to preface the performance.
With a narrative around a relationship between two gender-bending individuals and lyrics like "Mirror image, see no damage/See no evil at all/Kewpie dolls and urine stalls will be laughed at the way you're laughed at now," the 1984 song has only grown increasingly more relevant, and the sentiment hit hard coming from Grace.
The set rounded out with the strongest and most celebratory performance of the night, "Thrash Unreal" from Against Me!'s now 10-year-old record "New Wave."
Grace's infectious smile beamed off the bouncing energy from the crowd, shouting, "This night is gonna end when we're damn well ready for it to be over!" in complete unison.
And when the punks walked offstage, of course the audience was not ready for the night to be over.
Against Me! encored with five additional songs, including "Reinventing Axl Rose" favorite "Baby, I'm an Anarchist!"
When the show finally did wind down, the band's nearly 30-song set included at least two tracks from each of its albums, proving it is possible to simultaneously look back while looking ahead, subverting stereotypes as per usual for Against Me!