SDSU mauled by Bulldogs, 27-3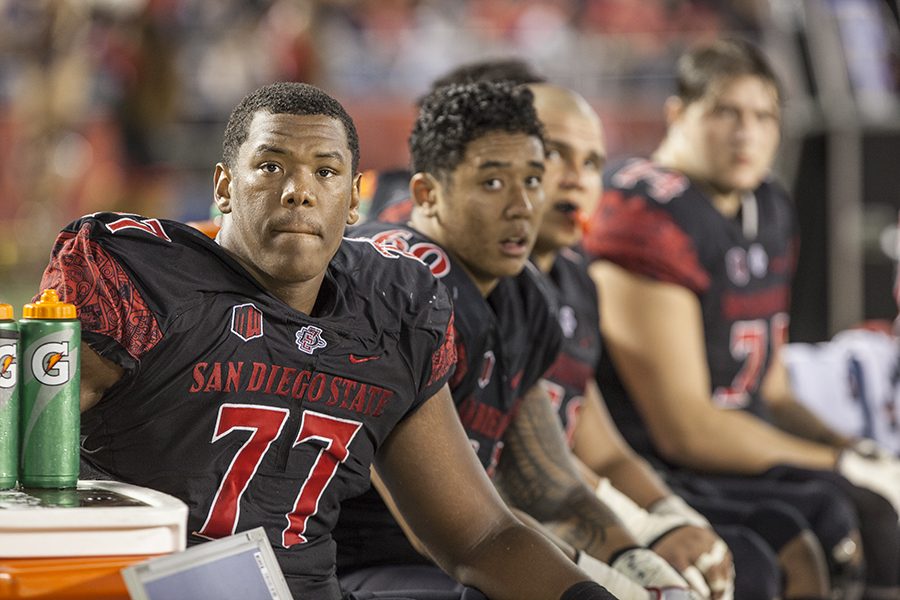 This was not the homecoming game that San Diego State football envisioned.
The Aztecs, only one week removed from a 6-0 start and No. 19 ranking in the AP Top 25, suffered their second straight home loss, this time to rival Fresno State University, 27-3.
"Obviously we didn't play very well, and we haven't played very well for the last two weeks," SDSU head coach Rocky Long said.
The Bulldogs will take home the Old Oil Can Trophy for the first time in four seasons, after dominating SDSU in front of 43,243 fans at SDCCU Stadium, many of whom had left the stadium by the end of the third quarter, and who began to file out en mass following the Aztecs sixth straight punt with 13:25 to play in the game.
Long said that while the loss is disappointing, it felt no different than anytime you get beat.
"They're all disappointing. They're all the same. They're all just as disappointing. I don't feel any different than I did last week," he said.
A victory for SDSU (6-2, 2-2 MW) would have put the team in first place in the West Division of the Mountain West Conference, but instead it falls two games behind first place Fresno.
The Aztecs offense was limited to 255 total yards in the game, and failed to get much going against a Bulldogs defense which harassed SDSU redshirt junior quarterback Christian Chapman, who was sacked four times and completed only 10 of 20 passes for 77 yards.
"Our offense the last two weeks has been pretty ugly," Long said. "The question people ask, 'Well why don't you spread it out and throw it.' That's not, that's not the formula to winning… most people that win a lot of games establish the run. So we can't change our formula, we've just got to do it better."
The majority of the Aztecs yards came on their opening drive, when the team drove 83 yards in 16 plays.
The drive took up just under 8 minutes of clock, but ended fruitless after senior running back Rashaad Penny fumbled on the Fresno 10-yard line.
Penny came into the contest averaging 149.43 rushing yards per game, but managed only 69 yards on 15 carries against the Bulldogs.
Long said that while he was unsure how much the fumble affected the Aztecs, early miscues can have an effect on a young team.
"When we have a young team their confidence level is shaky," Long said. "And if they come out and things are going pretty good and then all of a sudden something goes wrong, sometimes that changes their attitude."
Fresno finished with 375 total yards, including 176 through the air by junior quarterback Marcus McMaryion, who completed 10 of his 16 passes.
SDSU senior safety Trey Lomax said that the entire defense has to play better.
"We didn't play remotely close to as hard as we have before and we're not making enough plays on defense, we're not getting stops, we're not controlling the line of scrimmage, we're not covering well, it's a combination of everything defensively," Lomax said. "It's tough right now, that's a huge loss. We came in, we thought we were prepared, and we just got dominated."
The Bulldogs rushing attack was led by freshman Jordan Mims, who ran for 112 yards on 21 carries, and sophomore running back Josh Hokit, who scored three touchdowns while rushing for 77 yards on 14 carries.
Fresno state head coach Jeff Tedford said that his team stuck to its plan in the run game, and praised the play of his offensive line.
"That was the game plan coming in. We were going to be patient with the run and run down hill. Be physical up front," Tedford said. "Those guys are just carrying the ball though. It's the guys up front that are creating the creases. I thought the line played excellent tonight."
Hokit scored the game's first touchdown, a 1-yard rush with 15 seconds left in the first quarter. The Bulldogs made it down to the goal line following a 48-yard completion to junior wide receiver Jamire Jordan, who had gotten behind the Aztecs secondary.
SDSU's only score of the game came with 11:53 to go in the first half, after a 37-yard field goal by junior kicker John Baron II got the team to within 7-3.
A 45-yard run by sophomore running back Juwan Washington – his longest of the season – put the Aztecs into field goal position.
But that was about the only success the offense had against a stout Fresno defense.
Fresno added onto their lead after a 26-yard Hokit rush touchdown made the score 14-3. The run completed a six-play drive, which included a 30 yard pass-and-catch to junior wide receiver Da'Mari Scott.
The Bulldogs scored the last points of the first half on a 38-yard field goal by senior kicker Jimmy Camacho with 2:14 left, pushing its lead to 17-3. Fresno had made it down to the SDSU 11-yard line, but were forced back following an offensive holding penalty.
SDSU had good starting field position on their first possession of the second half, after senior wide receiver Quest Truxton returned a Fresno punt 37-yards to the Bulldogs 46-yard line. The Aztecs could not move the ball on the drive, however, and after three Penny rushes went for a total of six yards, the team was forced to punt.
Fresno struck first in the second half, on a 43-yard Camacho field goal which increased its lead to 20-3. The field goal completed a 11-play drive which spanned 63 yards and took up over five minutes of clock.
The game's final score came with 1:54 to go in the third quarter, after Hokit's third touchdown, a four-yard rush, gave Fresno the 27-3 lead.