Scene at State
Whether it be the temperature dropping below 70 degrees or the return of Starbucks' holiday cups, sweater weather has arrived, letting fall fashion finally thrive in the climate it was made for.
This changing of weather sprinkles autumn magic throughout campus—in the air, the leaves and, most importantly, the clothes.
Campanile is now a runway for cold weather clothing, as turtlenecks, corduroy and faux fur begin to strut down the walkway, allowing for greater styling creativity through thick knits and layering.
Yuuki Rosby, a senior majoring in interdisciplinary studies, bopped his head to the music in his headphones, kicking up leaves with his scuffed red converse as he strolled coolly through the farmer's market.
Rosby's thick, patterned vintage sweater oozed fall coziness, paired perfectly with cuffed black skinny jeans.
His vibrant personality shined through his customized backpack, adorned with colorful paint, patches and pins.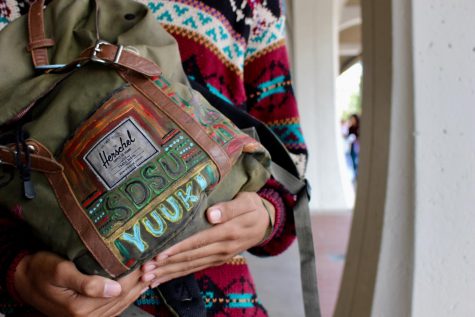 To top off his vintage look, Rosby added a pair of cardinal-colored frames and a gold septum piercing.
Nick Drammissi, a third-year majoring in journalism, stood by — filled with admiration and inspiration from Rosby's fall get-up.
"I like Yuuki's style because everything he's wearing is either thrifted or not too expensive. It shows his creativity because he didn't just go out and buy the most expensive, coolest new sweater," Drammissi said. "Plus, he puts his own little twist on everything he wears. That Herschel backpack he painted shows everything about his personality before he even opens his mouth."
How do you define your style?
I like vintage, really quirky kinds of clothes. Eclectic, with different colors all mismatched. In middle school I used to just wear black and white, which is really easy, but then I tried wearing a lot of different colors and it worked. I really like customized clothes.
Now that it's started to cool down, what are you excited to wear for fall?
Turtlenecks! I've been meaning to buy bell bottoms, but I don't know if I can pull that off. I have this fur jacket that I lowkey want to wear to class, it's this awesome white fur coat, but everywhere I go it leaves fur all over the place. So, turtlenecks, sweaters, bell bottoms, fur are what I'm really looking forward to. Also since it's almost winter I can finally start wearing my hair down. In the heat I have to keep it up with bobby pins, so I'm excited to have it down.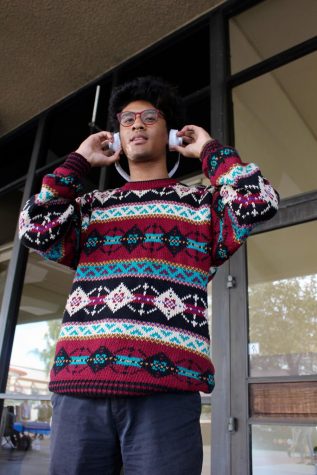 Where do you go to find style inspiration?
I really like watching old '80s movies. I love how ridiculous their style is, with the shoulder pads and big hair and all that. I want to emulate that ridiculousness, how absurd it is. I've been really digging The Romantics — their hair is so big, so I've been growing my hair out. My mom is Japanese, so I watch a lot of '70s Japanese TV shows and try to pick up on that style. It's kind of that uncanny valley — it's similar to America in the '70s, but with all these added twists and quirks. That's probably where I draw most of my inspiration from.
Where are your favorite places to shop?
My favorite thrift store is the Veterans Thrift Store, they have this great dollar rack that I usually go for. I like Buffalo Exchange. I just recently went to Topman and I like it, but it's pretty expensive. I love Burlington Coat Factory, I always find shoes there. Actually, I get most of my shoes from Ross or Burlington, because it's really hard to find shoes in my size. Either that or from my friends — friends' closets are my favorite stores.
What is your go-to outfit for going to class?
I like wearing jeans, a white t-shirt and some crazy jacket. Jeans and a t-shirt always work together, with headphones and my dirty Converse that my mom hates so much.