SDSU crushes McNeese State, 83-52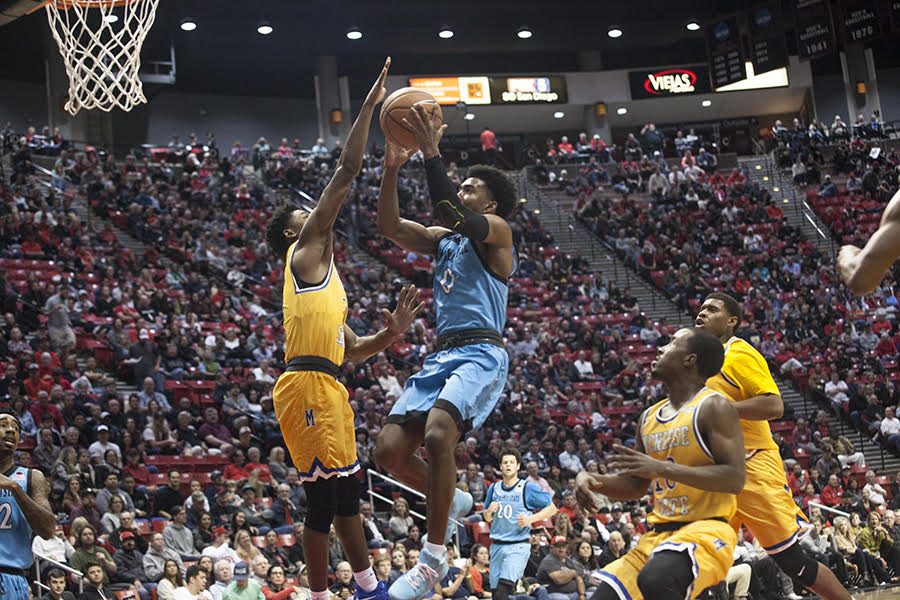 San Diego State men's basketball jumped out to a big first half lead against visiting McNeese State University, and came away with an emphatic 83-52 victory to move to 2-1 on the season.
SDSU scored the first nine points, and after a McNeese run made the score 13-11, the Aztecs scored 33 of the next 41 points to go into halftime with a 46-19 lead.
The Aztecs never trailed in the game, and were led by junior guard Devin Watson, who topped all scorers with 20 points to go with eight assists and four rebounds.
SDSU head coach Brian Dutcher praised his starting point guard after the game.
"He plays with a swagger about him, he's confident, he wants to win at everything," Dutcher said. "He's got a winning attitude and he's got a toughness about him, when he's out there playing well it makes everybody better."
Watson attacked the rim seemingly at will, and said after the game that he was just taking what the Cowboys defense gave him.
"I was just reading the defense a lot tonight. I didn't have to be overly aggressive, just made the right plays, had my opportunities to score, and had opportunities to make my teammates better," Watson said.  
Senior forward Malik Pope added 16 points with nine rebounds, and senior guard Trey Kell had 13 points to help pace the Aztecs.
Pope was the beneficiary of multiple alley-oop passes from Watson, and said he is glad to have the transfer from University of San Francisco.
"I'm just happy to have him," Pope said. "It's fun, he has a really good IQ on the fast break and knows where he wants the ball and what to do with it."
SDSU shot 48 percent, while the Cowboys had a hard time putting the ball through the rim, shooting only 31 percent from the floor and just 15 percent from behind the arc.
Junior forward Quatarrius Wilson led McNeese with 15 points and eight rebounds, but couldn't make up for a 2-15 shooting night from sophomore guard Kalob Ledoux, the team's leading scorer coming into the game.
Dutcher said that he saw improvement on the defensive end, three nights after giving up 90 points in a loss to Arizona State University.
"Well, a step forward defensively more than anything else," Dutcher said. "We emphasized it… We challenged them, talked about a level of toughness at the defensive end."
The Aztecs host Eastern Illinois University on Monday, Nov. 20 for their last home game until Dec. 3, when they host Bradley University.