Community members defy controversial El Cajon ordinance against feeding the homeless
The ordinance prohibits food-sharing events in public spaces. Some see it as specifically targeting homeless residents
Community members gathered in El Cajon's Wells Park on Nov. 19 to feed the homeless, in direct defiance of a controversial new ordinance in the San Diego suburb.
"We call it 'Break the Ban,'" said Mark Lane, a 1989 San Diego State alumnus and the primary organizer of the event.
On Oct. 27, the city of El Cajon passed an ordinance prohibiting "food-sharing" events in public spaces, including city parks.
Lane said members of anywhere between 30 and 40 organizations came out with the goal of standing against the ordinance.
"The goal, number one, is to get them to overturn the ban because it's a discriminatory ban and it's a ridiculous ban," Lane said.
According to a news release from the city, the ban on food sharing was in response to the growing Hepatitis A outbreak — an outbreak that is concentrated among the homeless population.
"With the trolley system, the homeless population is pretty transient, so it flows throughout the entire city area," El Cajon Mayor Bill Wells said. "People that were homeless in San Diego today might be homeless in El Cajon tomorrow."
The mayor said there have been a concerning number of Hepatitis A cases in El Cajon.
"All we're saying is, if you have a feeding program that's going on in the parks, we'd rather you did that in a kitchen and not in the parks because the people that feed people in the parks don't have food handlers permits and they're putting boxes of food on the ground.," Wells said. "This is the same ground where the homeless people are urinating and defecating and the public health officials have told us this is definitely going to lead to the transmission of more Hepatitis A."
Abel Macias, a lecturer in the Department of Chicana and Chicano Studies at SDSU, said he believes the city is using Hepatitis A as an excuse to push their political interests.
"They're using the Hepatitis A outbreak as a pretext for their political agenda, which is 'Hey, this is a really good reason to ban feeding homeless people. Let's try to use that for our advantage'," Macias said. "I think it's totally political. However, folks that are unaware of the politics of this could easily buy-into the argument that it's to fight the spread of Hepatitis A."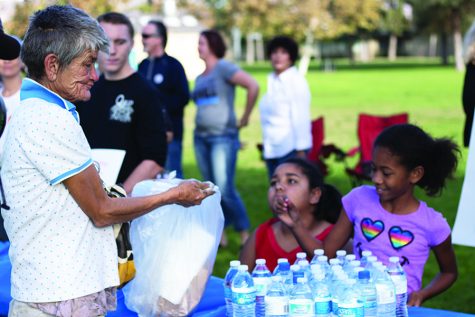 Wells said he thinks people who oppose the ordinance are attacking a non-issue.
"I think it's political opportunism," he said. "It's reasonable to not want to spread Hepatitis A. They're taking that reasonable stance and trying to inflate it into a rallying cry, and I think they do that for their own reasons"
According to a news release from the city, family reunions, birthday parties, baptisms and other such events that could involve food can continue in parks.
"They're saying the parks are all contaminated but, if that were true, then no one would be allowed to eat in the parks,"said Shane Parmley, a co-organizer of the event. "The way the ordinance is currently written, anyone who is not homeless can still come here and share food."
Parmley said this ordinance is part of what he perceives as a bigger mission by the city of El Cajon to impede upon the rights of the homeless. She said this began with bans on sleeping in campers on the street and camping in parks, then was followed by instances for police sweeping homeless people's tents and a law banning panhandling.
"People really need to email or call their elected officials," Parmely said. "I get it that nobody wants to pick up a phone and call, but you can email. And, if you do call, it makes a bigger impact. Our silence when things like this happen is our complicity."
SDSU rhetoric and writing studies graduate student Bo Elder, an event volunteer, said he perceives the ordinance as clearly targeting the homeless population.
"Something Councilman Ben Kalasho said when he was interviewed by (San Diego) CityBeat is the parks are there for 'normal people,' and now there are homeless people in the parks," Elder said. "Well, the park's there for everybody, regardless of whether Ben Kalasho thinks you're normal or not."
Wells said he is not opposed to extending the ban to all park users, and this is being considered in the City Council's search for a long-term solution.
"People are saying, 'Well, you should ban the people who are having weddings and picnics too,'" he said. "Perhaps that's the next step. I'm not opposed to that, but I feel like government should be as least restrictive as possible."
Wells said the intent of the ordinance is not to make food inaccessible to the homeless, but to put money and resources into established homeless shelters instead.
"There's over 25 different places right now that are giving away meals and we have a grid that shows that, every day of the week, there's a place to get free meals," Dr. Wells said. "These churches are not prevented from giving away meals, they're just prevented from giving away meals in the park."
Elder said he believes this relocation of resources from public to private spaces is problematic.
"I think it's great that there are various shelters and institutions on private property that can be distributing food, but also I think one of the things that makes a public space a public space is that it can be used for socially beneficial things," Elder said. "I think it's important for the things people need to be available where people need them and with minimum barriers to accessing that."
Event volunteer and organizer from Food Not Bombs, Melanie Redden, said there is also the issue of many churches no longer being able to host food shares due to lack of permit.
"A lot of El Cajon was served by churches sharing food and they've discontinued their food services due to the new ordinance," Redden said. "Our position is kind of taking the legal heat for them so we can help to get this overturned so they can resume their local food service without threat of breaking the law."