Aztecs pick up a win at the NAU Fiesta Bowl Tournament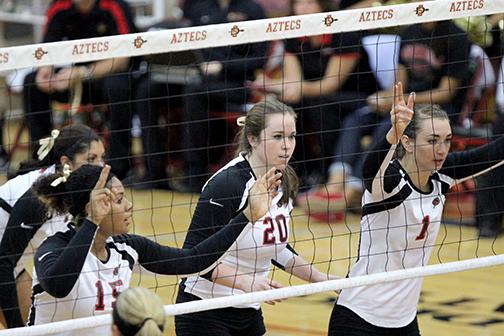 by Livvi Sefton
September 15, 2013
San Diego State volleyball concluded its weekend with a win on the road to end a three-game losing streak. The Aztecs traveled to Flagstaff, Ariz. for the second tournament of the young season, the Northern Arizona University Fiesta Bowl.
The Aztecs' 27 team errors compared to the Lumber Jacks nine proved to be the difference on Friday as the host team took three sets (28-26, 30-28, 25-22) to take the match.
Despite the loss, SDSU gave Northern University a run for its money and forced the first two sets to extra points. Late surges from the Aztecs put them in contention in each of the sets, but it wasn't enough to overcome the host team.
SDSU returned to the court Saturday afternoon to face California State University, Northridge. The undefeated Matadors proved a difficult test for the Aztecs and took the match in five sets by scores of 27-25, 25-16, 25-20, 25-23,15-9.
Three Aztecs met double figures in kills. Senior outside hitters Summer Nash and Raegan Shelton had 14 and 13 kills respectively, while senior middle blocker Emily Harris contributed 11. Defensively, senior libero Courtney Vaccarello had a team-high 16 digs and senior setter Johnna Fouch added 14.
SDSU put the loss behind it late Saturday afternoon as Fouch helped the team to a victory against the University of Idaho. The All-American recorded her second double-double of the day and her fourth in six games. The 54 assists by Fouch set a new tournament record for assists in a three-set match.
The final game of the tournament for the Aztecs finished with set scores of 25-23, 25-20 and 27-25. Junior outside hitter Michelle Waber topped the Aztecs in kills with a career-high 16. Waber was joined in double figures by three of her teammates including Nash, Shelton and Harris with 13, 11 and 10 kills, respectively.
Nash continued her strong start to the season. The match against Idaho marked the fifth time in six matches she reached double figures in kills. She also tied her career-high three service aces and recorded eight digs and a pair of blocks.
CSU Northridge downed Northern Arizona in four sets to take the tournament title and remain undefeated.
The Aztecs look to improve on its 3-3 overall record on the season this weekend as they host the Holiday Inn Mission Valley Aztec Invitational. The home opener is against Harvard University tonight at Peterson Gym at 5 p.m.