SDSU men's basketball promises to amaze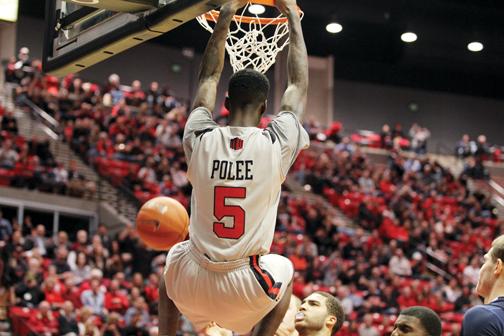 It's been too long since the Aztecs last played on the hardwood, for student athletes and fans alike. But fear not, the wait is finished. San Diego State men's basketball is back.
Uncertainty surrounded the end of last season. Jamaal Franklin declared for the 2013 NBA Draft and Chase Tapley, DeShawn Stephens and James Rahon graduated.
Those four contributed almost all of the 1,461 points, 649 rebounds and 64 blocks last year that the team will be losing this year. However, seeing how the summer and off-season have unfolded, the 2013-14 Aztecs will not only make up for the loss of production, but will outperform the 2012-13 Aztecs.
Here's why:
Unbelievable depth
Yes, SDSU has several primetime players, including senior transfer forward Josh Davis. The team's stunning depth, though, is by far its strongest attribute. If you don't believe me, visit Goaztecs.com and look at the roster.
Senior guard Xavier Thames, junior forward J.J. O'Brien and Davis will most likely start. I would not be surprised to see any of the rest of the roster take the last two starting spots.
[quote]"I do believe we've got more players capable of helping this team than we've had in a long time," Head Coach Steve Fisher said.[/quote]
From sophomore forward Winston Shepard to redshirt freshman forward Matt Shrigley to the entire team, everyone has something unique and valuable to contribute.
Time and time again, the best college basketball teams prove that depth and consistency breed success. Take last year's University of Louisville team, for instance. No top-five or even any top-10 players were on that team. But it had a lot of great basketball players. If someone played poorly, his teammate picked up the slack.
The Aztecs don't have the sheer talent a University of Kentucky team would have. However, SDSU's depth will take it farther than any top-five player could.
Team's attitude
It's impossible to gauge a team's attitude with certainty, but all indications show that this year's team is a no-nonsense group ready to take on the season.
[quote]"Last year, there was a lot of joking and guys laughing," Shepard said. "But this year … you're going to see a hard-working team, and a team playing with a chip on its shoulder."[/quote]
Not to say that SDSU basketball isn't fun. "The Show" wouldn't exist if the basketball program were a no-fun zone. Players have also commented on how much they enjoy practice. However, no matter how much fun they have, the Aztecs leave the outside world at the door when they enter the gym.
[quote] "Our practices have been as competitive over an extended period of days as any team I've had the opportunity to coach," Fisher said.[/quote]
Remember folks: Fisher has had a successful career. He has coached SDSU for 14 years. Before that he coached the University of Michigan for more than eight years. During his tenure at Michigan, he coached the famous "Fab Five" team, arguably one of the greatest college basketball teams of all time.
He's been around his fair share of quality practice, so his statement speaks volumes to the quality of SDSU this year.
Coaches
Fisher is one of the great coaches in this sport's storied history. His teams have made 12 NCAA Tournament appearances and three national championship games.
The impact of assistant coaches is sometimes easily forgotten, though. SDSU has the cream of the crop of assistant coaches with Brian Dutcher, Justin Huston, David Velasquez and Mark Fisher. ESPN ranked two SDSU assistant coaches, Dutcher and Huston, as the eighth and 19th best assistant coaches in the country, respectively.
Dutcher came to SDSU with Steve Fisher 15 years ago and has been a vital part of the program's development. Huston returns for his sixth year at SDSU after two years at University of Nevada, Las Vegas.
I mentioned SDSU's depth earlier. Here's a look at some of the players to watch:
Senior guard Xavier Thames (6'3", 195 pounds)
With two years as starting point guard under his belt, Thames is ready to lead. He is the top returning scorer from last year, averaging 9.5 points per game. And those numbers are even more impressive considering that Thames' nagging back injury hampered his Mountain West Conference play. Imagine what a healthy Thames can do as the floor general and leader of the team.
Senior forward Josh Davis (6'8", 215 pounds)
Whether they know him as Josh Davis or "Kawhi 2.0," Aztec fans are thrilled to have him on the team. As a first-team member of Conference USA last year, Davis averaged 17.6 points and 10.7 rebounds per game, all while shooting nearly 50 percent from the field.
He finished No. 4 in the country in double-doubles and No. 8 in rebounds per game. Measuring by his production last year at Tulane University, Davis alone compensates for almost half of the points, rebounds and blocked shots the Aztecs will lose from last year. Davis is living up to expectations in practice. Now it's time for "The Show" to watch.
Sophomore forward Winston Shepard (6'8", 205 pounds)
Shepard, a four-star recruit from Houston, would be the first to tell you he played below expectations last year. During the summer he spent time with his family, trained at the LeBron James and Kevin Durant skills academies and even trained with NBA Hall of Famer Hakeem Olajuwon.
Get ready to see Shepard much improved in every facet of the game. He could very well develop into a college basketball star.
SDSU also has some big-time freshmen this year. Freshmen guards Dakarai Allen and D'Erryl Williams both come from Sheldon High School in Sacramento. They led their team to rank No. 27 nationally in their senior year and look to impress at Viejas Arena.
Here's a number to think about: nine. ESPN ranked SDSU's 2013-14 schedule as the ninth strongest in the nation, ahead of many top-ranked schools like Duke University and Syracuse University. SDSU also plays the toughest schedule of any MWC team.
In other words, this year will be thrilling. Here are some of the marquee matchups:
 Nov. 14: vs. University of Arizona Wildcats
The Wildcats are the preseason USA Today Coaches' Poll No. 5 team. After SDSU's tough 68-67 loss against then-No. 3 Arizona last year, the Aztecs want revenge. I can see SDSU-Arizona turning into a great rivalry soon.
Jan. 5: at University of Kansas Jayhawks
This will be the Aztecs' biggest test of the year. Kansas is the preseason No. 6 team and has the top overall high school recruit, freshman forward Andrew Wiggins. The Allen Fieldhouse in Lawrence, Kan., is a notoriously difficult place to win on the road. A win in Kansas would shoot SDSU into the top-25 quicker than you can say, "What's a Jayhawk?"
Jan. 8: vs. Boise State University Broncos
Many college basketball analysts are choosing the Broncos as one of the breakout teams this year, and some rank them ahead of the Aztecs in the MWC. SDSU will be fighting Boise State for second place in the conference, so this will be a vital game. "The Show" must be at Viejas in full force.
Jan. 18: vs. University of Nevada, Las Vegas Rebels
The Rebels aren't what they were last year. They lost much of their team, mainly the first overall pick in the 2013 NBA Draft, Anthony Bennett. However, the Aztec-Rebel rivalry is as heated as ever.
March 8: vs. University of New Mexico Lobos
This is the last game of the season before the MWC Tournament in Las Vegas. This game could decide the regular season winner of the MWC. The Lobos are just as strong as last year, if not stronger. UNM has its dominant redshirt junior, 7-footer Alex Kirk, as well as the reigning MWC Player of the Year, senior guard Kendall Williams.
Let's not forget freshman 7-foot 1-inch back-up center, Obij Aget. This will be an absolutely incredible, high-pressure game. You will be devastated if you miss it. Believe me.
I want to leave you all with something to get you excited about being a part of "The Show," as if you need it.
SDSU has won 33 games in a row against California schools. SDSU averages 12,414 fans per game. The next closest average attendance in California is UCLA, with 9,549 fans per game.
SDSU students are at a great basketball school with a wonderful culture and fan base— one could argue the best in the West Coast. This is especially for freshmen: have a great year watching basketball as a part of "The Show." You'll love every second.
Prediction for the season:
21-7 (14-4 MWC) 2nd Place in the MWC regular season

About the Writer Matthew Bain, Managing Editor
Matthew Bain is the managing editor for The Daily Aztec. He's a senior journalism major with the Honors minor in interdisciplinary studies. His work...