Ramen house pleases all tastes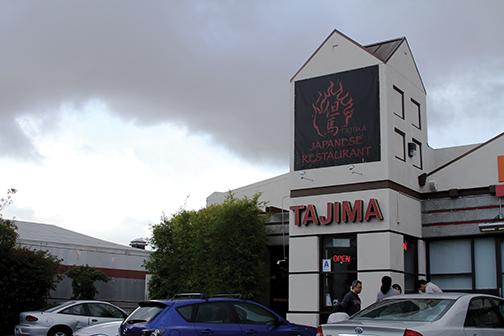 Any respectable San Diego native knows that Convoy Street is the jackpot when it comes to Asian culture.  Restaurants, karaoke bars, those little stores that carry the cutest pencils ever—you name it.  Last Sunday night, my family and I got to experience a little piece of this Asian culture when we ate at Tajima Ramen House.
We couldn't see it right away, but after some eye squinting we spotted the neon-red letters that spelled out Tajima at the back of the narrow lot that the GPS led us to.  While walking up to the front doors, my first impression of the restaurant came in the form of my stomach swirling in anxiety—had I just brought my little brother and my grandmother to a sketchy, hole-in-the-wall dive? Thankfully, the tummy twisting stopped once we got inside.
The middle of the restaurant featured a square island table that was surely capable of hosting multiple dinner parties. The remainder of the reasonably sized, dimly lit dining area was also adorned with unique, mostly metallic art pieces that established a semi-modern vibe with a Japanese influence. Another art piece I found charming was a group of six ceramic maneki-neko cat figurines on a shelf behind the bar.  They all had different accessories that had obviously been added on, such as mini paper sunglasses, bows and mustaches. I couldn't not smile looking at them.
We started our meal with some appetizers, takoyaki (octopus firtters) and gyoza (fried pork dumplings), both costing $4.50.  I can honestly say that having never tried octopus before, I was pleasantly surprised by the deliciously glutinous consistency of the fritter that accompanied the thankfully not-too-chewy seafood. For dinner, my brother and I both had ramen—his was the specialty spicy sesame ramen, a fat noodle bowl for $8.95.  It was filling, with the kind of throat-stinging spicy that stays for minutes after a bite.  My ramen bowl, $7.95, was special in that I got to pick and choose what I wanted in it.  In addition to the barbeque pork, boiled egg and other fixings that come with every customized ramen bowl, I ordered the thin noodle ramen in miso flavored broth with toppings of kimchi and cheese.  It may have turned out to be my least favorite of the dishes I tried, partly because it was underwhelming, and partly because of the seemingly freshly unwrapped Kraft Single laying on top of my noodles.  My mom ordered a chicken katsu entree that was $9.95, a tasty and reliable choice for any unsure Japanese cuisine consumer, while my dad got the $7.95 tonkatsu rice bowl, which almost tasted like a hamburger despite it being unlike one in every respect. But don't get me wrong; it was good.
The winner of the night was my grandma's $8.95 vegetable tempura entree.  As a tempura rookie, I can confidently say that it is a crunchy contender for my new favorite food.  And, as expected, the green tea ice cream and mango mochi ice cream for dessert was bomb. They were also an awesome $2.50 each.
Thanks to the cool environment, our warm waitresses and the invention of the fork, I think our dining experience at Tajima was a success.  I would recommend it to anyone who is in the mood for inexpensive Japanese food and a great time with friends or family.
Photo by Staff Photographer Kristian Carreon

About the Writer Olivia Litsey, Arts & Lifestyle Editor
Olivia Litsey is a sophomore at SDSU and an economics pre-major with an honors minor in interdisciplinary studies.  She started writing for The Daily...