Alpha Kappa Psi appreciates faculty and staff with breakfast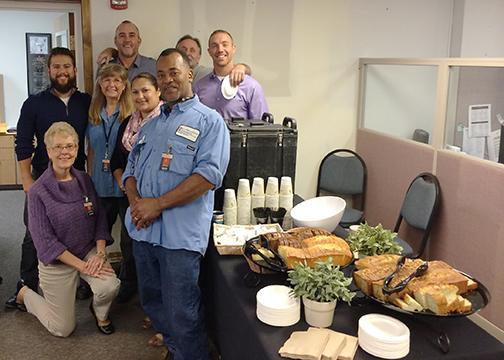 Hang on for a minute...we're trying to find some more stories you might like.
On Thursday, Nov. 13, Alpha Kappa Psi, a co-ed business fraternity at San Diego State, held a Staff Appreciation Day and brought refreshments to more than 200 employees that make up the SDSU Facilities Services department.
The idea for the event came from financial services junior Brandon Amaral, vice president of professionalism and consultancy committee for Alpha Kappa Psi. Entrepreneurship senior Omar Pineda, who is also a member of the committee, was in charge of the event.
Pineda's responsibilities included contacting people and acquiring food for the event. He also put together a video in which members of the fraternity voiced their appreciation of the staff.
"It came out great. I had it playing as they got coffee and pastries, and one of the people who worked there distributed it to everybody in facility services," Pineda said.
Alpha Kappa Psi held the event because the staff members often go unappreciated. While faculty members and administrators are recognized on occasion by awards ceremonies and campus organizations,  this event was a rarity.
"I felt passionate (about the event) because I know how it is to work and be behind the scenes," he said. "I remembered that any time somebody went out of the way to recognize my work, I really liked it. So I wanted to spread that feeling."
The staff members are the backbone of the university. They play the essential part of making sure things run smoothly. Whenever prospective students tour the school, for example, SDSU relies on the cleaning staff to advertise the school.
Campus Energy Manager for Facility Services Tom Abram wrote his appreciation in an email to the fraternity.
"I just wanted to say that was a classy move from your fraternity," he wrote. "Thanks for showing the appreciation (and the goodies). We're here to serve the students."
The reward, for many members of the fraternity, was the thanks from members of the staff.
"Just seeing their faces, and bringing smiles to them," Pineda said. The event was unexpected by the staff, and they were very grateful toward all of the members of AKPSI.
"It is by far, one of my favorite moments I have experienced during my time here at San Diego State," Pineda said. "We are just students who wanted to do something nice to those people behind the scenes that make it happen, it's as simple as that."