SDSU students perform 'slowly but surely, becoming slightly'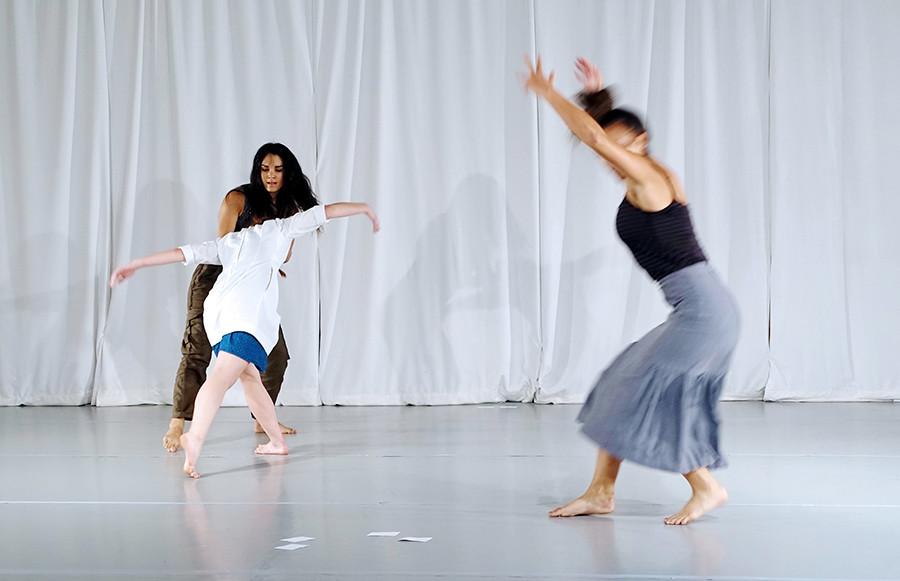 A new type of modern dance will be performed at the "Dance: Make It" event at 7 p.m. on Saturday, Oct. 10 at San Diego State's Dance Studio Theatre.
"Slowly but surely, becoming slightly" is not a traditional type of dance where dancers perform on a stage and an audience watches silently from their seats. It's a dance experiment, a modern take on a traditional idea.
Taking place in an art gallery-type setting, the performance will encourage the audience to mingle, take pictures and walk around the studio theater, all while observing the dancing happening in the center of the room. In a bold twist, viewers can expect the dancers to be making live compositional choices.
The hour-long dance performance will feature a lively mix of rock, rap and classical music. "If." — a trio of SDSU dancers — created the choreography they will perform to music from diverse artists, including acclaimed jazz musician Charles Mingus and edgy electronic artist Fatboy Slim. "If." consists of dance seniors Krista Nelson and Aubrhe Yruretagoyena and SDSU dance alumna Chloe Freeman.
Their project focuses more on the dance process, itself, rather than a flawless finish.
"We didn't have a story or a message," Freeman said. "It was really about the craft, the practice and the collaboration — the art, itself."
The dance blends components of improvisation techniques with set routine material, thus blurring the lines between product and process.
Freeman said in order to prepare for this type of dance performance, they immersed themselves in weekly improvisational practices and collaborations. They recently performed at the Ocean Beach pier unannounced.
"I think what really led us to this particular dance was an interest in a practice, investing in a consistent studio practice that could turn into a performance but doesn't necessarily have to," Freeman said. "It's challenging and we're all at the point in our artistic explorations where we want something that challenges us."
The Dance Studio Theatre show is one out of 10 performances that will go on in the community, two of which are in traditional studio spaces.
SDSU dance professor Leslie Seiters has taught all three of the dancers in this performance. She said it has been a gift watching her students grow as dancers.
"It just seems like something really has clicked for them where they're studying being in motion together," Seiters said. "I'm excited for what it brings to the local dance community and dance field."
"Dance: Make It" tickets will be on sale for $5 at the door.