Executive V.P. and V.P. of financial affairs candidates debate campus issues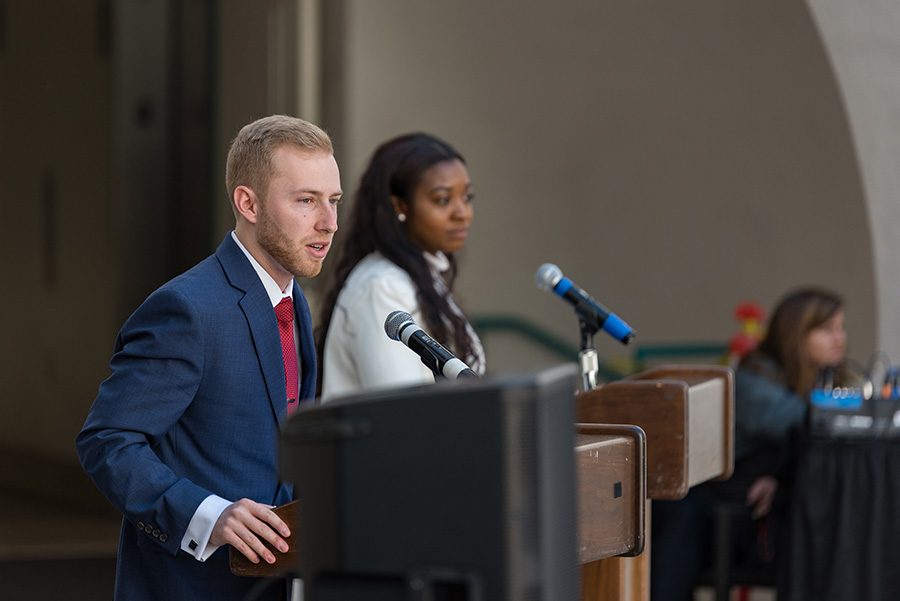 Candidates for San Diego State Associated Students executive vice president and vice president of financial affairs debated over issues including San Diego State's mascot, sexual assault and the lack of diversity within A.S on March 7 at 12 p.m. in the Lee and Frank Goldberg Courtyard.
Vanessa Girard and Shannon Sneade are the candidates for A.S. executive vice president.
Krystal Nzeadibe and Hayden Willis are the candidates for vice president of financial affairs.
The debate started with the opening statements of Nzeadibe and Willis, followed by a couple of questions for each candidate in which they had one minute to answer.
Nzeadibe said the job of the vice president of financial affairs is to oversee the budget of the organization, and she wants to make sure there is knowledge as to where the money is going to.
Willis said he is most qualified for the position because of his experience in finance.
"I feel like I'm prepared for this position given that my prior experiences has allowed me to understand where the financing goes," Willis said. "I'm confident in my abilities going forward."
When asked about their feelings toward SDSU's mascot, Nzeadibe said it is inappropriate to use a human as a mascot and would fully support changing it.
"We currently are the only California public university to still use a human as a mascot," she said. "SDSU is not an exception, and we need to make sure all students feel welcome and comfortable  at this university."
Willis said he sees both sides of the equation and understands the importance of coming up with a good answer. Nzeadibe rebutted and asked him if he supported changing the mascot or not.
Willis said he would support what is in the best interest of the students.
When asked about hate crimes that happen at SDSU, Girard said she wants to be relatable and wants students who are affected by hate crimes to talk to her.
"I feel like students feel like they're in the dark and in the silence, and they need to be heard," she said.
Sneade said victims of hate crimes need to be acknowledged by the university.
"We should not be afraid to take stances and statements of solidarity in order to let students know that we, as a university protect them," she said. "Historically, this has not been done in many cases."
With A.S. being mostly Greek, Sneade said she is not against Greek life, but students who are part of other organizations need to be represented.
Girard said team Transform does not only represent the social greek community, but they are active in other organizations representing a large student body.
The next debate will include the A.S. presidential candidates on March 8 at 12 p.m.