SDSU seeking upset over No. 19 Stanford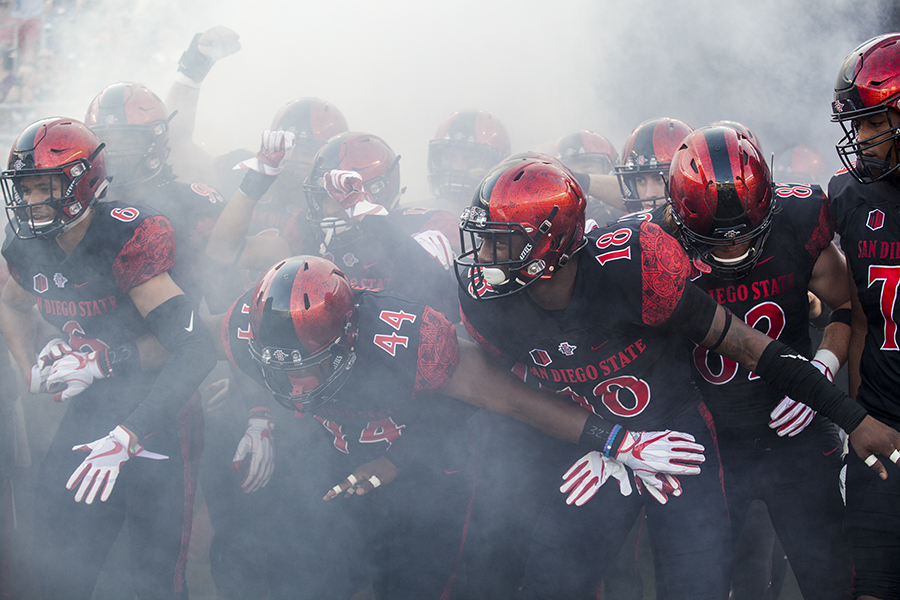 There is a buzz around campus surrounding San Diego State football this week. The release of SDSU's 2017 regular season schedule brought with it an elephant in the room — or to be more specific — a tree. Now the wait is finally over: it's time to play Stanford.
The Aztecs will take on the Cardinal this Saturday, attempting to defend their home turf against an opponent that will be hungry to get back in the win column. Stanford, ranked No. 19 in the AP and Coaches Poll, will come in with a record of 1-1, following a tough road defeat to the University of Southern California.
SDSU, on the other hand, heads into the matchup with a two-game winning streak to start the season. Fresh off a 30-20 road win against Arizona State, it's first road victory over a Pac-12 school since 1975, the Aztecs will look to continue their hot start with a third straight win over a Pac-12 opponent (including their win over University of California Berkeley in 2016).
This will be the fourth all-time meeting between the programs, with Stanford holding a three-wins-to-one advantage. The game will be nearly three decades in the making, with the last matchup in 1988 resulting in a Cardinal victory.
Aztecs Head coach Rocky Long always embraces the opportunity to play schools from other conferences, and knows that a victory in this game could stir up national interest in his team.
"We have another opportunity game this week, where we're playing somebody from another conference," Long said. "If you can play well against the 19th ranked team in the country you ought to get a little national exposure."
SDSU senior running back Rashaad Penny leads the nation in rushing with 413 yards, and it took him less than half a quarter to stun a packed ASU stadium last weekend. Starting with his back against his own end zone, Penny burst through a hole in the left side of the line and ran 95 yards for a touchdown. Penny finished the game with 216 rushing yards to go along with one receiving touchdown and a 99-yard kick return touchdown.
Only two hours earlier, Stanford junior running back Bryce Love was doing some running of his own.
With his team trailing in the first quarter, Love — who finished with 160 yards on 17 carries — took a pitch from senior quarterback Keller Chryst, found a hole in the left side, and sprinted 75 yards down the sideline for a game-tying touchdown.
Love is currently fourth overall in the country with 340 total rushing yards, and with neither team's lead back showing signs of slowing down, the question isn't who will rush for 100 yards in this game, but instead how many snaps it will take.
"Maybe it'll be the shortest game in college football history," SDSU defensive coordinator, Danny Gonzales, said. "Both teams are going to line up and they're going to run the ball at each other."
Stanford struggled on the defensive side of the ball against USC, giving up 623 total yards of offense, including 309 yards on the ground. However, the Cardinal bring a level of athleticism and size to the Mesa that the Aztecs have not faced this season.
"The USC game means nothing," Long said. "I think that Stanford is truly one of the top 20 teams in the country."
A player to watch for Stanford will be senior defensive tackle Harrison Phillips, who leads the team in tackles with 16, including 11 against USC. Phillips weighs in at 6'4 295 pounds, and headlines a defensive line full of players who will pose another tough test for a young Aztecs O-line, which is comprised of four out of five starters who had not started a game before this season.
While the line has performed well in SDSU's first two games, it will have to step up in a big way against the size and strength of Stanford.
"I thought Arizona State was athletic… Stanford's probably even bigger and better," SDSU offensive coordinator Jeff Horton said.
Stanford may also have the edge at quarterback. Chryst is averaging 212.5 yards-per-game to go along with four touchdown and no interceptions this season. In contrast, SDSU redshirt junior quarterback Christian Chapman has struggled to find his rhythm, and threw for only 73 yards in the victory over ASU.
"We've just got to play catch better," Horton said. "Keep trying to get the ball downfield, keep trying to make plays. We've just got to continue to work."
On defense SDSU is known for its physicality, and will look to stay aggressive against Stanford, after sacking ASU's quarterback five times.
"It's going to be a physical fun game, and that's the kind of games that we brand ourselves around here," Gonzales said.  "We're going to be smashmouth."
Gonzales takes nothing away from Stanford's high octane offense, and acknowledged that it won't be easy to contain the amount of weapons their opponent has at its disposal.
"They've got really good players, they're big up front… it'll be a really big challenge and we're excited to have it," Gonzales said.
SDSU junior defensive lineman Noble Hall will continue to attack the quarterback, after he co-led the team in sacks with one-and-a-half against ASU. Hall, who was named Mountain West Defensive Player of the Week, said he feels well prepared coming into the game, and is looking forward to competing in front of a wider audience.
"I'm coming into this game playing faster, I'm noticing more schemes, so I think it'll be good for me," Hall said. "I feel like if I do good I'll really get more publicity for myself, get my name out there, because that's big time football."
The rest of the Aztecs will be ready to show the country that they belong in the national conversation as well.
"Our kids think they're as good as anybody," Long said. "They've just got to play that way."
Saturday's game will kick off from San Diego Stadium at  7:30 p.m., and will be broadcast on CBS Sports Network