Armenian students are occupied with the difficult realities of losing loved ones, their land and the Nagorno-Karabakh war as finals approach
As the fall semester comes to an end, students are nestled in their homes and must confront the burden of finals week. However, finals are an individual endeavor that many Armenian students struggle to place an immense amount of energy on. Armenians, as a collective — diasporans and nationals — have their minds occupied with the difficult realities of losing loved ones, their homes and the Nagorno-Karabakh war. 
According to the Council on Foreign Relations, Nagorno-Karabakh, also known as Artsakh, to Armenians, is a mountainous region located within Azerbaijan's borders, but 95% of the population is ethnically Armenian. The conflict began in 1988 after the Soviet Union collapsed, and in 1991, the Republic of Artsakh declared independence from Azerbaijan. By 1994, Armenian forces won the war, and Russia brokered a ceasefire, but a peace deal was not reached. 
This year's conflict between Armenia and Azerbaijan has reached an end with a peace deal which was also brokered by Russia. The cessation of the war has hopefully put an end to the killing, bombing and war crimes. However, the damage has already been done. According to a BBC report, the deal calls for Azerbaijan to hold on to the lands it has taken during the conflict and calls for Armenia to withdraw from several neighboring areas. 
The war resulted in the displacement of thousands of Armenians from these areas and killed thousands of others, some of whom were civilians. According to the Council on Foreign Relations, this is similar to what the Azerbaijani people experienced when they had to leave the regions taken by Armenians in the 1990s. 
On top of seeing my people killed and forced out of their homes, San Diego State's involvement with Azerbaijan has shifted this semester's focus from my education to the families suffering in Armenia.  
In February of this year, Nasimi Aghayev, Azerbaijan's Consul General of Los Angeles, gave a lecture to SDSU Lecturer Martin Kruming's Media Law and Ethics class. Aghayev used his time to speak about Azerbaijan's oil industry's history and the positive multiculturalism within the country. He also spoke about Armenia and how they have been the aggressors in the region, according to a report from an Azerbaijani state news agency. 
Azerbaijan is far from a country that holds human rights to a high standard. In a 2019 Human Rights Report, the United States Department of State found that Azerbaijan has significant human rights violations such as unlawful killing, heavy restrictions on free expression, violence against journalists, systemic government corruption, detention and torture of LGBTQI+ individuals, some of the worst forms of child labor and many more. 
Kruming has built a relationship with Azerbaijan from the San Diego-Baku Friendship Association, which he is the chairman of. He has also written a letter to Ilham Aliyev, Azerbaijan's President since 2003, to congratulate him on winning the 2018 Presidential Election. 
Aliyev is the same man who pardoned and promoted an Azerbaijani soldier who bludgeoned an Armenian classmate to death with an ax in Hungary in 2004. He is the same man who denied attacking civilians with cluster munitions in the most recent conflict, despite the evidence found by the Human Rights Watch. He is also the leader of the same country, which has recently been accused by the Human Rights Watch of mistreating prisoners of war. 
War crimes themselves are paradoxical. Expecting groups to hold themselves accountable when mutual hatred is spewed on both sides is naive. Although sometimes justified, war is inhumane in itself, so to expect anything more from a country that denies the Armenian Genocide is naive as well. 
This video shows two Armenian POWs being executed after they were captured in the town of Hadrut, Nagorno-Karabakh, and has been confirmed to be genuine by independent investigators at Bellingcat. 
Kruming was also a part of a panel of international observers of the 2020 Azerbaijani Parliamentary Election, who have been accused of contributing to its alleged falsification by Cavid Agha, an Azerbaijani writer. 
Agha was an observer in the election who noticed ballot cutting and carousel voting. Ballot cutting is when people cut the corners of the ballots to make them invalid, and carousel voting is when groups of people go to several voting stations to cast their ballots. Agha believes these falsifications were everywhere, and individuals who go to the media and speak about the election's transparency are complicit in these schemes.  
Discovering that the school I pay thousands of dollars in tuition for has been involved with the same country which spreads propaganda, instigates a war in the middle of a pandemic and denies the Armenian Genocide has made me question my place as a student within this institution. 
Smerch missile on October 29th fired to Tartar was taken from private house and delivered to museum of local mayor's office. pic.twitter.com/1jZGfEG5nM

— Hikmet Hajiyev (@HikmetHajiyev) November 28, 2020
How can one receive an education from an institution, let alone concentrate on finals, when that very institution has interests which contradict the same values they preach? Despite the constant feeling of betrayal, Armenians seem to put one foot in front of the other and proceed to make their homeland a better place. 
SDSU's Armenian students are also at the forefront of this cause. The Armenian Students Association is one of many recognized organizations at SDSU. Although the organization has been inactive due to COVID-19, members have still been raising awareness of the Nagorno-Karabakh conflict and the plight of their people.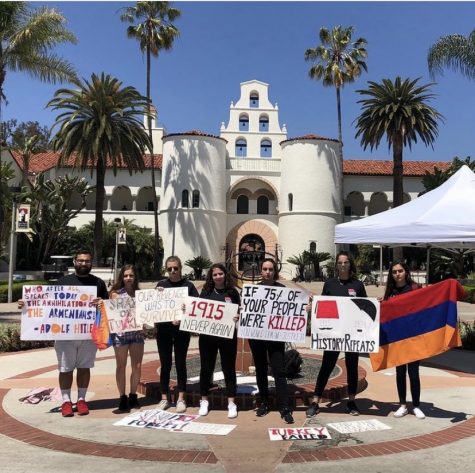 As a result of the war, many families have been displaced from their homes. Nayiri Ayanian, an executive of ASA, has an aunt who owns Parev Doon, a bed and breakfast in Yerevan, Armenia. In October, she opened her doors to 40 displaced Armenian refugees who were a part of this heartbreaking exodus.
To help them live free of charge, Ayanian's cousin started a GoFundMe and raised over $30,000. For the next six months, these families now have food to eat, other individuals to be around and more importantly, a roof over their heads.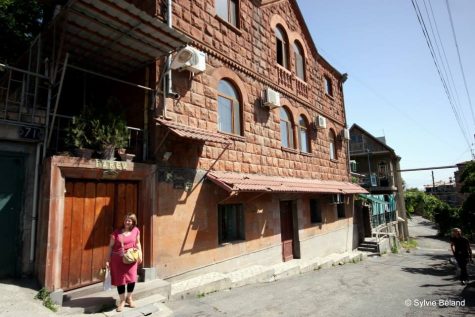 Like many other Armenians in the diaspora, Ayanian has done her part by spreading awareness on social media. The constant refreshing of one's page and sharing information to anybody willing to listen became cyclical for many diasporans, and it has taken its toll. 
"It's hard on everyone but it was really hard to see [my mom] super upset, and it's just super stressful … I had to ask a few teachers for extensions," Ayanian said.
Although it has been difficult to get the message across to non-Armenians, Talia Begi, president of ASA at SDSU, feels optimistic because of the interest that others have shown on social media. 
I marvel at our inclination to fight and spread awareness for our culture. Maybe it is because of the nationalism in Armenia and of Armenians abroad, or just the mere threat of our existence that makes us dig our feet into the sand and put all the aspects of our lives that we thought were important to an abrupt halt. Either way, it is an inclination that many Armenian students, like Ayanian, are feeling as they head into finals week. 
Ayanian was planning on traveling to Armenia on Dec. 18 to help her mom with a program that allows individuals to financially adopt orphans whose families have died in the war. However, she has familial Mediterranean fever, an autoinflammatory disorder that causes recurring fevers and pain in one's abdomen, lungs and joints, according to the Mayo Clinic. As a result, it is unsafe for her to get her feet on the ground in Armenia to contribute. 
Despite these roadblocks, Begi said ASA is currently discussing fundraising efforts with the university and will update their followers via Instagram.
We are our Mountains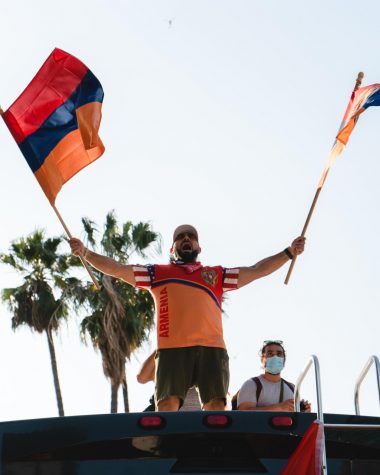 In 1967, artist Sargis Baghdasaryan sculpted a monument on the northern hills of Artsakh's capital, Stepanakert, called "We are our Mountains." According to the Rensselaer Polytechnic Institute Library, he carved an old man and old woman into the volcanic tufa, symbolizing the longstanding heritage of the Armenian people in Artsakh. 
For many, it is a representation of Armenians in the diaspora as well. No matter how far we have been forced to move, our blood remains the color of the soil of these mountains. 
As bodies of men, women, and children lay on the side of these same mountains, some diasporans and allies have been working tirelessly to spread awareness of the atrocities directed towards Artsakh's people, so more people do not lay with them. 
Many have neglected these individuals for centuries, but we shall not. 
What do we have to offer, anyway? 
Humanity. 
An intangible trait that, unfortunately, has been taken for granted and cannot be bartered for oil or other tangible resources that grant people the power they thirst for. 
Armenians and allies have been working tirelessly to help these unimportant people, so forgive us for needing to gather headspace before we proceed with our schoolwork. 
Prioritizing one's identity over finals, or one's education in general, should not come as a surprise when that identity's existence is being threatened.
Brandon Balayan is a junior studying journalism. Follow him on Twitter @balayanbrandon.