Squishmallow mania has cuddled its way onto campus
They are squishy, colorful, come in a variety of sizes, can be found all over TikTok, and people will line up in the early hours of the morning to score them. What are these comforting plushies you ask? I'm talking about Squishmallows, the increasingly popular line of stuffed toys created by Kelleytoys.
The toys were created in 2017, but their popularity skyrocketed during the COVID-19 pandemic and the rise of the social media platform TikTok.
Each stuffed toy comes with a tag featuring the plushie's name and unique backstory. Sinclair is an avocado toast Squishmallow who loves discussing outer space with his cousin Austin. Barb is a lavender colored dog with floppy ears who loves all things gymnastics. 
The toys have become so huge that major brands such as Sanrio, Disney, and Sesame Street have collaborated with Kelleytoys to create limited edition licensed plush toys. 
Even though Squishmallows were initially designed with children in mind, teens and young adults alike have taken a liking to the stuffed toy brand.
Kaylani Cayabyab, a fifth year applied mathematics major, has over 200 Squishmallows in her collection. Immediately prior to her interview, Cayabyab had just bought a new Squishmallow to add to her collection.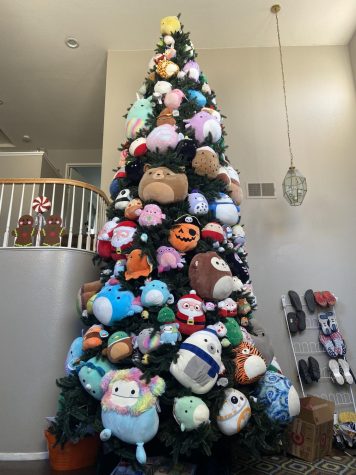 "My first one [Squishmallow] was actually from my boyfriend, and I actually didn't know what they were at the time," Cayabyab said.
After Cayabyab received her first Squishmallow in 2019, she started to collect more and more. Cayabyab had collected popular stuffed animals such as Build-a-Bears and Webkinz as a child, and says Squishmallows allow her to relive that part of her childhood.
"I've always collected stuffed animals," Cayabyab said, "But now that I have adult money, nothing is stopping me."
Squishmallow TikTok, or "SquishTok" as it is more commonly known, has become a huge online community for Squishmallow collectors. 
"I have connected with other Squishmallow fans online. It's lowkey embarrassing. I rarely use Facebook, but then I found a San Diego Squishmallow Facebook group and joined that," Cayabyab said.
Cayabyab has also recently started making TikToks featuring her Squishmallow collection, as well as her journey hunting down specific Squishmallows. 
Despite the cuddly cuteness of Squishmallows, the "SquishTok" community has come under fire for the actions of money hungry scalpers who resell Squishmallows for hundreds of dollars. Price gouging has become such an issue in the Squishmallow community that Change.org petitions have been made to stop scalpers.
This may seem like a lot of drama and tension for stuffed animals, but for many students, Squishmallows bring back memories from childhood. 
"They [Squishmallows] really are like healing your inner child and allow me to reconnect with things I used to do as a little kid," Cayabyab said.
Cayabyab does not agree with the actions of resellers, but understands that for some it is a significant source of income.
"When one [Squishmallow] retails for fifteen dollars and then someone resells it for over one hundred dollars, it's kind of ridiculous," Cayabyab said. "Especially since I've seen some people cave into that…and bite the bullet because it's one that they really want."
The drama surrounding these plushies parallels the "Beanie Boo" craze of the 1990's and early 2000's. Similarly to Squishmallows, adult Beanie Boo collectors would often spend hundreds of dollars on rare or unique Beanie Boos with the idea that they would make a great investment.
Whether or not you think Squishmallows are just the new stuffed animal craze, SquishTok has proven that the desire for these toys is here to stay.