Any casual observer of what is going on around San Diego State University quickly catches on to the common noises around campus: the careless chattering of passing herds of partygoers, the crunching of beer cans on the street, the dull thudding of somebody's music, which suddenly disappears as soon as someone in a uniform knocks on the door.
However, there is a place not far from the ruckus- a cozy hideaway nestled behind a house in the suburbs- where some sweeter sounds can be heard.
Step through the door of this sanctuary and you will find a world of sound and color. Natural light, brightly-colored furniture and strokes of green from plants hanging all around. Every wall in this place is fixed with an instrument: a keyboard here, a drum kit there and guitars everywhere. This is the world of Hannah Geller, a third year student studying music composition and playing house shows all around SDSU.
Geller came from a small town in Wisconsin called Appleton. During her early teenage years, she amassed a big following as a cover artist on Instagram and YouTube. Two of her covers had view counts in the millions, "Hallelujah," which now has 1.9 million views and "Perfect," which has reached over 2.6 million.
"At one point I was getting offers from different companies like The Voice," Geller said. "All these places were reaching out to me because I was a little 12-year-old that went viral on Instagram. It was a weird time in my life, but childhood fame can be a difficult place to start your career. I feel like I kind of peaked in my music career at like 13, but I'm trying to get back to there again."
Geller's early fame showed the world that she had something big to offer but being a cover musician on YouTube isn't the career she has in mind. She's looking to break back into the music world in a new way, and that's why she came to SDSU. At most schools, music composition majors are confined to studying classical music, which is not quite her jam– it's not SDSU's jam either, so it was the natural choice.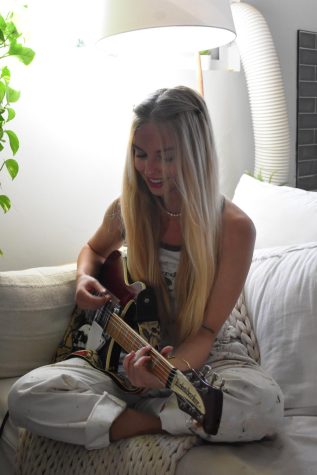 "I'm not gonna write like Beethoven stuff. I wanna write rock music, so I came out here because it's more diverse,"she said.
Besides studying music, she is also making the most of her time and talent by launching into the world of live performances. Her affiliation with Aztec Music Group, a student organization dedicated to providing opportunities for people interested in working within the music industry, has enabled her to perform at events all around the school. She has played many memorable shows during her time at SDSU, but so far one stands out above the rest.
"My favorite show was the Halloween show, because that was the first show that I did with Zen, my bassist," Geller said. "That was the first show I ever had a full band – lead guitar, drummer, bassist – and the audience was huge. I was just ecstatic, it was so fun."
With plenty of house shows under her belt, Geller and her band have started to venture away from campus and into San Diego at large.
"We played at Balboa Park…it was for a fundraiser called Save Starlight," she said. "I feel like that was the strongest we ever played."
Geller's presence keeps growing, and her performances are only getting better with experience. Hannah continues to perform covers at shows– her version of Briston Maroney's "Freakin' Out on the Interstate" is always electric – but she really shines when she's playing her originals.
"Now when I'm performing, I'm doing pretty much all original songs," she said. "It's fun to show the world what I've been working on."
But before Hannah's music can touch the ears, minds and hearts of the audience, it has to be written. For Hannah, songwriting is more of an experience than a process.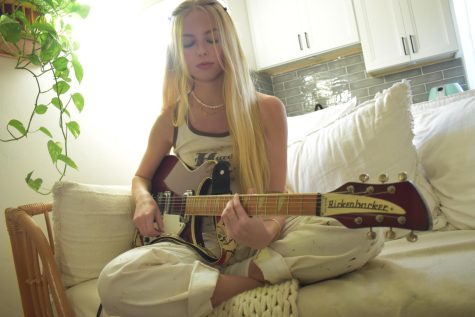 "I'll just kind of sit down with my guitar," she said. "I'll light some candles at night, and I really like my living room because there are a lot of plants– it's very cozy. I just kind of get in the mood and play around with the guitar and see what happens…I'll play around on the fretboard, and if I'm like 'Oh, this is kind of sick', I'll sing words and a melody over it and see if I can make something happen."
Geller has been making things happen for a very long time, having written her first song in the 4th grade."The lyrics were not complex, they were like 'In the rain, it will pour, lightning will flash, thunder will roar'" she said.
She wrote the song, entitled "Eye of the Storm", for her aunt who had been diagnosed with breast cancer.
"I had some emotions and I wanted to put them into something," she said. "I guess you could say that was the first emotional thing that gave me musical inspiration. And now, when things happen in my life, I'm like 'I'll just write a song about that'. That's the silver lining to the situation– at least I get a song out of it."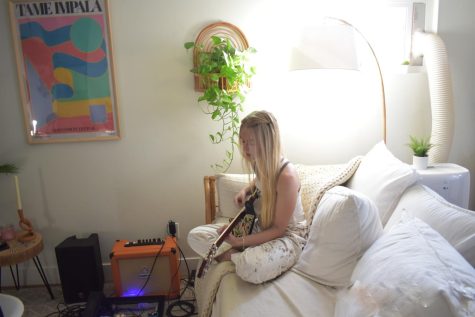 After producing her first song, Geller took a long hiatus from the songwriting business, focusing more on covers and devoting the rest of her time to school. She would not go on to produce another original until her senior year of high school, when her first single, "Every Intention" was released on Spotify. Since then, songwriting has been Geller's passion. She has picked up an impressive array of instruments to assist her in that passion.
"Piano was my main instrument for the longest time," she said. "But with the music I'm making, I can't just play the piano for Psychedelic rock songs, so I was 17 when I picked up the guitar…I picked up bass over COVID, and I've been playing drums since I was like 13."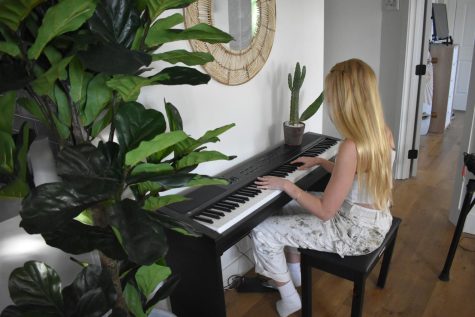 Of course, no matter their skill, any artist is bound to find that art is not an easy thing to make– especially great art. Geller's experience has been no different.
"I've had so many days where I am just in such intense distress trying to mix a song, trying to get a song out" she said.
However, Geller knows how to navigate the difficult days, when the next step seems unreachable.
"I just keep pushing through it because I know that this is what I want," she said. "This is so cliche, but even if the days are so hard, and you don't feel like you can finish a song, you just gotta keep trying."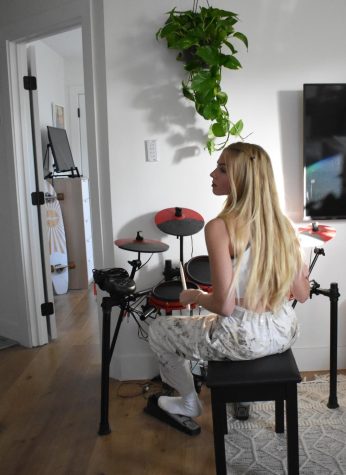 Geller acknowledges that distress can be particularly discouraging for female musicians such as herself.
"There are so many rock bands that are male based, and I haven't really seen that many female rockers," she said. "I think it's hard for girls to feel comfortable getting out of that bubble, because it's just kind of not the norm…so if you have a passion for music and you want to follow it, you just have to do it."
When she topples the cards that are stacked against her, she ends up on the other side with some thoroughly rocking tunes. Her current favorite original song is called "Song For No One."
"It's my one unreleased song that I play at my shows,"she said. "I feel like the lyrics in that song are the most personal for me…When it comes to writing music, I care about the sound more than the lyrics…but in Song For No One, they mean a lot to me."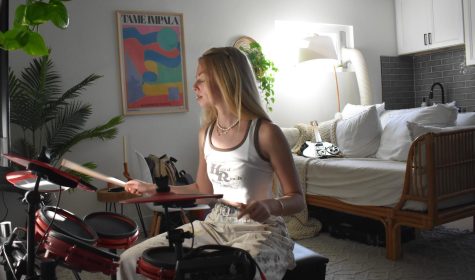 "Song For No One" encapsulates the forward-momentum of her sound as it offers a tone shift that's really a treat for the ears.
"It goes from pretty, slow strumming and then – 1, 2, 3, 4! and it speeds up a lot and then you get those distorted guitar solos" she said.
Psychedelic rock is Geller's specialty, and she draws on a few different bands to nail that trippy, distorted sound that Hannah's listeners know and love.
"I always listen to Tame Impala– as you can see from the poster, I'm a diehard Tame Impala fan. Temples, Heaters, Holy Drug Couple. A bunch of psychedelic rock bands" she said.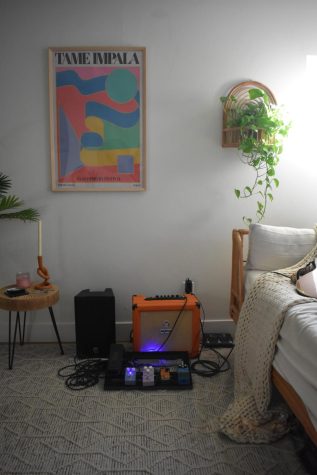 Her main influence is Tash Sultana, an Australian singer-songwriter who, coincidentally, also launched into the music world at the age of 13.
"She writes psychedelic rock music as well– she's actually the only other female psychedelic artist I know of," Geller said. "She kind of inspired me to do that kind of music."
When she hits the stage, Tash's influence shines through in all the right places as she blends an energetic presence with dreamy (yet rocking) vocals and some ruggedly mesmerizing accompanying guitar. Geller is on a trajectory to do some very big things in the music world, and watching her perform is an experience you should definitely not pass up on during your time at State.
"My Spotify is Hannah Geller, and it's the same on Apple Music. My Instagram is @hannah.geller, and my song Waves is coming out on December 2nd. That's gonna be my fourth single and it's the most psychedelic one yet. It's a fun one to blast in the car."