VS Fresno State 1/26
On Thursday, Jan. 26 the Aztec women's basketball team (18-6, 8-3 as of Wednesday, Feb. 1)  defeated Fresno State (8-15, 1-9) 75-66 in their second meeting of the season; handing Fresno their sixth loss in a row.  
Earlier in the season the Aztecs beat Fresno State 49-43 but showed a significant improvement this time out. 
In their previous game against Fresno, Aztec head coach Stacie Terry-Hutson said they had "a good defensive outing but they struggled to score the ball."
That was not the case Thursday afternoon. 
"We are much more comfortable at home," Terry-Hutson said. "We had outstanding passes and just played with a better tempo which allowed us to get out and run." 
It was an incredible game to watch as the Aztecs created 21 assists on 30 baskets with four players reaching double-digit points, once again showing their depth as a team.
Senior guard Sarah Barcello was the star of the show going 3-4 from deep, ending the game with nine points. 
"We played really well this game when we shared the ball," Barcello said. "Shoutout to my teammates. They kept finding me, I owe it to them."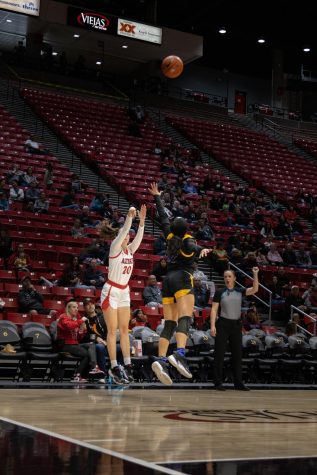 In Mountain West conference games, Barcello is shooting 47.8% from the three. Not only that, but of her last six 3-pointers, five have gone in.
Barcello's teammates also found some baskets with junior forward Kim Villalobos and senior guard Abby Prohaska both scoring 11 points. Senior forward Yummy Morris and sophomore guard Asia Avinger joined the fun— scoring an impressive 10 points throughout the game as well. 
After a 10-0 lead to open the game and a 30-point lead at the half, the Aztecs maintained a double-digit advantage for almost the entire game.
This win puts the Aztecs in a great spot as this year's 17-5 season is their best since the 2012-2013 season, and Terry-Hutson is thrilled.
"We are excited about the wins," Terry-Hutson said. "But overall we are just trying to get better. But our main goal is to be playing our best basketball in March, and we took a big step forward today."
Because of their win against Fresno, the Aztecs now have sole possession of second place in the Mountain West.
VS San Jose State 1/28
San Diego State's women's basketball team followed the win over Fresno by defeating San Jose State University (3-18, 1-9 MW) 59-39 at Viejas Arena on Jan. 28. 
During the game SDSU honored the annual Women in Sports Day on Feb. 1. Throughout the game SDSU provided fans with fun facts about previous alumni athletes and former SDSU student athlete Falisha Wright was there to witness the team take the win along with President Adela de la Torre.
Before the game there were numerous activities for fans to take part in, including the chance to play volleyball with the women's volleyball team who had a set-up outside of Viejas Arena. At the end of the game, the SDSU women's basketball team had an autograph table to sign autographs to their fans. 
Junior forward Kim Villalobos had an outstanding performance against SJSU with a total of 14 points, three rebounds, two steals, and a block. 
Villalobos said her teammates are the reason she has been so confident.
"My teammates trust me a lot to score, it's fine if I miss," Villalobos said. "They're still telling me to keep shooting. 
Head coach Stacie Terry-Hutson loved Villalobos's performance. 
"She's always been really dynamic around the rim and she still is but she's also now lengthening her game and she's shooting that 12 to 15-footer at a really high percentage," Terry-Hutson said. "I think she has had a really nice season so far and we're looking for her to do big things."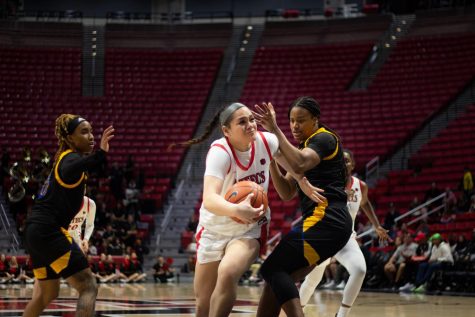 Despite having a fantastic game, Villalobos was the only player to foul out after accumulating five personal fouls.
"She was trying to block shots, she was trying to make outstanding plays but she just needed to stand straight up," Terry-Hutson said. "She needs to be a little bit more disciplined so she can get more minutes. I wanted her to play more, but she was in foul trouble."
In the first quarter, SJSU racked up many fouls against SDSU, but the Aztecs struggled to convert free throws. They ended the first quarter 6-10.
"We got to be better," Terry-Hutson said. "Those are easy shots that we need to make. We do a good job getting to the basket and getting fouled. We need to execute. It definitely was an emphasis for us. And we're going to go back and work on that for sure."
However, by the end of the game, the Aztecs had 17 fouls of their own as each player fouled except for senior forward Yummy Morris, freshmen guard Natalija Grizeji, and senior guard Mercedes Staples.
"It's not what we should do," Terry-Hutson said. "Part of our defense is to defend without fouling and I think we get a little undisciplined and maybe a little lazy and we start reaching and we do uncharacteristic things in our defense. I thought we gave them opportunities at the free throw line." 
The Aztecs followed the home wins with a 62-57 loss in a tough matchup at Boise State Monday night as the team nearly overcame a 16-point deficit. Avinger (16), Staples (12) and Morris (10) all scored in double digits but the Broncos were able to make free throws to end any chance of an Aztec comeback.  
SDSU will continue its two-week road trip Saturday Feb. 4 when they head to New Mexico to take on the Lobos. The next chance for Aztec fans to catch a game at Viejas Arena is on Feb. 16, versus Colorado State at 6 p.m.