SDSU filmmakers captivate audience with must-see student-created films
Guests were greeted with a full red-carpet experience as they entered the dazzling Kolorhouse SDSU short film premiere
Kolorhouse SDSU hosted their first short film festival on Jan. 29 at the Aztec Student Union theater.
Film and fashion lovers thrived at this event last weekend. Over 15 student-made short films were screened, including various genres and styles such as comedy, drama, horror, romance and sci-fi. 
The screening included "Borrowed Time" (romance) by David Garuchava, "Switcheroo" (horror) by Andrew Kwon and "Off the Grid" (documentary) by Lucia Ledesma. 
The black-tie event drew attention from audience members looking forward to a formal night out. 
"I feel like for a lot of events, it's like oh- just show up in casual wear; but because it's black-tie, it's an occasion," said junior and financial services major Morgan Baker. "You can go to a lot of events but there's not a lot where you can get dressed up at."
Rain Garcia, junior and Kolorhouse SDSU president, started planning this event in October. 
"I just think that there's a lot of talented people at San Diego State University and that they don't always get a platform or an outlet to express themselves," Garcia said. "This film festival is kind of an opportunity for them to do that and show their work and get recognition for all their talents."
Students were greeted with a red-carpet entrance and multiple photographers when they entered the building. Baker's favorite part of walking the carpet was having the option of three photographers since the photos would showcase their different aesthetics. 
"It was really awesome to see this event come to light," Garcia said. Everyone is wearing amazing outfits, they have a red carpet to walk on, our photographers are taking photos and I think it's just bringing everyone together."
Garcia said that Kolorhouse SDSU "cultivating community" is what makes this film festival unique.
"I think this is different from other events on campus because it's a safe space for everyone to come and support the arts, creativity and videography in general," Garcia said. "It is just a great way to build community and make new friends and support people."
Sean Alex, junior and Kolorhous SDSU videography director, said that he was hoping that people would be inspired by other people's work as a takeaway from this event.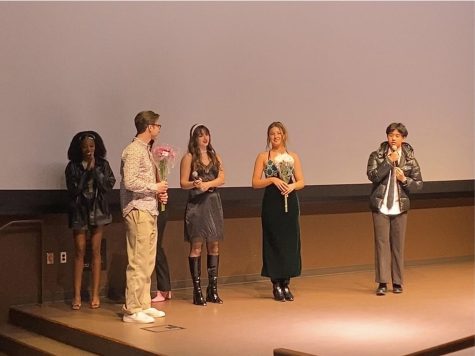 "Showcasing student work is very important as an SDSU community as well as within the TFM major," Alex said."I'm seeing a lot of people I know that are in my classes here that are showcasing stuff, so that's cool."
After the screening was over, positive feedback on the films was shared. Baker said that her favorite film shown was "The Hard Case" by Sep Jeddikar because it had the right amount of drama.
"I was very impressed," Baker said. "The production value, very nice."
Kevin Sakrekoff, a senior studying film and theater, starred in the film "Day in the Life" by JJ Eccles; a humorous film about an obnoxious TikTok interviewer at SDSU. He said that hearing a live audience's positive reactions and finding his acting funny was extremely gratifying.
"Getting to see dozens and dozens of people see what I did and enjoy it was awesome-it was actually absolutely sick," Sakrekoff said. "Next one of these festivals, whoever's listening, you should come, they're pretty good, they're a good time." 
For more information on upcoming events, follow the Kolorhouse SDSU instagram.