Competing against the faculties of 22 other universities in the California State University system, a San Diego State University professor was chosen for the CSU-wide Faculty Research Award, marking two consecutive years an SDSU professor had won the award. 
The Faculty Research Award is given by the CSU Program for Education and Research in Biotechnology (CSUPERB). Out of the hundreds of faculty members working within the CSU system, one is selected as the winner for their innovations in biotechnology.
This year, Jeffrey Gustafson, an organic chemistry professor and chemical biologist, was awarded for his research and design of molecules that can combat cancer-causing proteins. 
Gustafson said his work is still in the early phases of drug discovery, but he hopes it will eventually be used in targeted cancer therapy.
In 2022, biology professor and microbiologist Marina Kalyuzhnaya won the Faculty Research Award with her research in methane-based biotechnology. In her studies, Kalyuzhnaya discovered ways to utilize methane-eating bacteria to convert greenhouse gasses into renewable energy.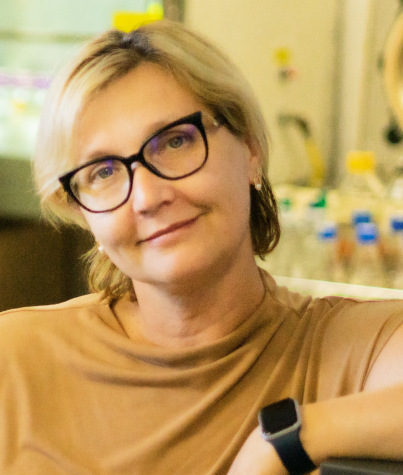 Chair of Biology, Richard Cripps, is familiar with both professors and believes the past two awards have been well-deserved. 
"It's a great recognition of the fantastic work that our faculty do here, but it's also a reflection of the long-term commitment that SDSU has made to generate outstanding research programs," Cripps said. "It's been this historical effort, probably over the last 30 plus years, where SDSU made a conscious effort to push to have a higher level of research forth." 
Gustafson's work, as well as the other research at SDSU, has been largely self-supported through research grants and funding from organizations, such as the National Institute of Health (NIH) and the National Science Foundation (NSF). 
According to Gustafson, the NIH is the currency in the realm of academia and the most important research funding agency in the country. This year, Gustafson's grant portfolio hit one million dollars.
"When you compare SDSU labs who have this level of funding compared to our really excellent CSU colleagues, we're simply going to get more research done," Gustafson said. "The best thing we can do is continue research and increase our funding because so many of the basic discoveries that lead to new medicines are funded by the NIH."
Kalyuzhnaya believes the success of the biology department at SDSU is largely attributed to the quality of the university's programs and students. 
Kalyuzhnaya said the contributions of graduate students at SDSU should not be overlooked.
"In biology at least, having a strong program and motivated students is critical," Kalyuzhnaya said. "It's not just the great faculty we have here, but we also have a graduate program that supports our faculty, and it really helps us to do high-level research here."
Aaron Roberts was initially a pre-med major when he took Gustafson's organic chemistry course, CHEM 232. 
After taking his class, Roberts was inspired to switch his major to biology and is now minoring in chemistry.
Roberts, now a third-year major in biology, is working alongside Gustafson and his graduate students with chemical reactions that are in relation to cancer. 
Roberts described his decision with Gustafson as one he will never forget.
"Specifically with what stuff (Gustafson) is doing, it's groundbreaking," Roberts said. "A lot of the work gets me excited to think about, and it hasn't been explored extensively in the way our team is." 
Cripps believes the Faculty Research Awards show the investment the university has made toward science and innovation as it not only supports the faculty, but it also trains students to do their research.
"The best way we can serve our students is by having top-class researchers educate them and top-class research labs where they can get hands-on experience," Cripps said.
Gustafson, Kalyuzhnaya and Cripps have high hopes of the university winning the award again. According to them, SDSU's academic research progress has the potential to gain national prestige if their efforts continue. 
"I heartily congratulate Jeffrey and Marina for their achievements and hope we will be represented (by the CSU Program for Education and Research in Biotechnology) again very soon," Cripps said. "There's always a lot of great stuff going on in the department. That is what's so exciting about being here."
Editor's Note: A previous version of this story stated "biology professors" had won the award for two years in a row. This was misleading because while Marina Kalyuzhnaya is a biology professor, Jeffrey Gustafson is a chemistry professor doing research with the biology department. The story has been edited to reflect this.