'WNDRing' what the new WNDR museum is all about?
San Diego's WNDR Museum introduces a wide array of innovative and interactive art exhibits in the heart of downtown
Innovation, immersion, individuality, inclusivity, technology and creativity are the cornerstones of the newest art museum introduced to San Diego, the WNDR Museum. The exhibition opened its doors to the public on Jan. 11 with the aim to expand and pioneer a new way of experiencing art to the west coast.
"WNDR Museum is all about interactivity," General Manager Andy Grantz said. "It's determined by you and nobody has the same experience when they go through."
As guests walk inside, they are immediately granted with a fortune when they place their two feet in front of a mirror. 
This is only the first of many personalized experiences attendees are bound to encounter throughout their time at WNDR. 
Staff awaits at the entrance to welcome and introduce guests to what this experience has to offer. There is an extensive gift shop full of merchandise as well as a cafe and a bar that is open to the public. 
Purchasing a ticket grants access to each exhibits' imaginative and technological qualities. The pull of WNDR is that it pushes classical boundaries in art by encouraging visitors to engage with and construct their own unique artwork through a multitude of techniques.
Brad Keywell, founder of an AI software provider called Uptake, created WNDR Museum originally in Chicago. His motto is "you are your own artist" and he encourages everyone who enters to use their imagination and create their own art.
Keywell created his own exhibit in WNDR San Diego entitled, "We are all artists (if only we knew…)" in which he used Richard Prince's technique of manipulating the work of others into his own in this piece. It serves the purpose of propelling Keywell's main principle that everyone has the capability to become their own artist.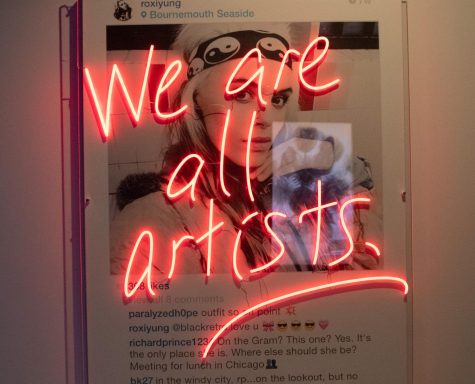 When guests enter, they produce their own art on the light floor located at the very start of everyone's experience. Lights glow up beneath each step a person takes while two infinity mirrors surround guests in the magic of the technology WNDR includes.
Another opportunity for guests to create is at an exhibit titled "Untitled, by You" developed by artist Wolfbear. Here, WNDR introduces an artificial intelligence system to the art realm where visitors can describe their own artwork in text. 
The exhibit consists of five panels that generate art one by one to provide different perspectives of a description. Grantz explained how the system pulls from essentially an endless gallery of photos, artists, pieces of art videos and creates art based on personalized prompts.
One may even forge their own adventure in "One Minute," a virtual exhibit similar to a video game, made by OceanWorld. This is where each person gets one minute to discover, play and face obstacles in the room of their choice. 
Aside from these creative elements, WNDR offers a wide array of "must see" immersive exhibits. One being "INSIDEOUT," where a garden simulates a storm around guests. This is inspired by the artist, Leigh Sachwitz's childhood experiences of thunderstorms in a Glasgow garden shed. 
This exhibit is a 360 degree experience that lasts roughly three minutes long. Abstract videos resembling a thunderstorm are projected inside of a garden shed that guides one through the experience the artist had as a child. Not only video, but light and sound are included to amplify Sachwitz's story. 
People may have drastically different experiences inside and outside of the garden shed. They are able to undergo this immersive story multiple times in multiple ways inside and out, as the title of the exhibit suggests.
"INSIDEOUT was my favorite because I really liked how there was two different perspectives you could see the display from," Lyric Tinnel, junior and biology major at San Diego State University, said. "It reminded me of the storms I experienced growing up in the midwest and reading about the art piece helped me feel really connected to the creator and her work."
Another unique experience WNDR has to offer is the Quantum Mirror that is described to be an infinity room filled with over 150 mirrors inside. The exhibit is designed to serve as a literal reflection of our modern obsession with screens according to artist Adrian Steins' description of the work.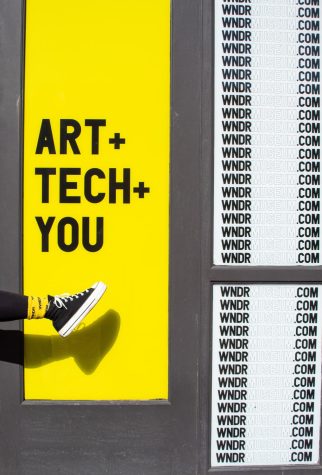 WNDR is also proud to own four pieces of Keith Harring's work along the fence of the FDR highway he spray-painted in 1984. Two pieces are located in  the Chicago museum, while piece number 25 and 26 are located inside the new San Diego location. This one aspect of WNDR is what draws in many artists who are eager to get a glimpse at this rare piece of history. 
With its recent opening, WNDR looks to draw in many people inside the heart of downtown to see a new, inclusive and innovative approach to art. They are looking to have local schools take field trips to the museum to introduce their new ideas to today's youth. 
Admission prices range from $32 to $50 for adults depending on their peak hours at night or their VIP package, and $22 for children.
Purchase a ticket at 422 Market Street in downtown San Diego and become your own artist at WNDR Museum.