Aspiring artists showcased their talents at Doodle Palooza
Kolorhouse.sdsu and RedBull teamed up to connect creatives in a fun, interactive environment
Kolorhouse.sdsu hosted RedBull's Doodle Art competition on Feb. 24, where students showcased their creativity through art, photography and music.
The Hillel of San Diego was packed with students creating their best doodles while enjoying free Chipotle and Redbull. Students also enjoyed live, upbeat music from In The Mix DJ Club.
Mikhalia Bird, a sophomore journalism-public relations major, thought the event was a great opportunity to encourage self-expression.
"I think it's cool to see people be able to express themselves and feel like a little kid again," Bird said. "I feel like drawing allows you (to) just see what's going on in your brain."
Students were able to draw on Redbull's Doodle Art templates, which will be entered into a global competition across 60 countries. Only 12 national finalists will be chosen to travel to New York, which is where the Red Bull Doodle Art winner will be announced.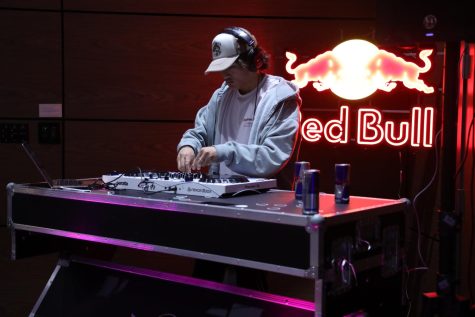 Besides the templates, Redbull provided a smart touch-screen whiteboard that allowed students to explore drawing from a different medium.
Although many students submitted entries for the competition, the wall of student artwork captured spectators' interest. Thanks to Kolorhouse.sdsu, student artists like Sincere Robinson, a third-year transfer student, were able to gain additional visibility for their work.
"This is my first time having my work displayed and it feels amazing," Robinson said. "Everyone's looking at my pieces. I'm just trying to get more exposure… (and) make more connections. I have a strong work ethic, so doing this is passion and drive."
Robinson openly shared how he was able to provide guidance to anyone who asked him questions about his work, as well as how and where he drew his inspiration.
"I feel like the best part is seeing how other people's minds work and how they create their work," Robinson said. "You always want to help and see what they can do."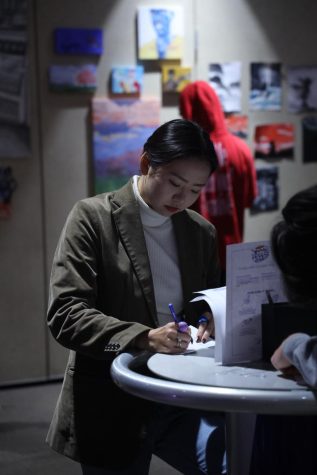 Based on the event's success, San Diego State Univeristy Kolorhouse president, Rain Garcia, believes that events displaying artists'work keeps creativity alive on campus.
"I think as college students, we are so focused on our time in school," Garcia said. "Having an outlet is really important, not only for your mental health, but you know, just to feel kind of human. (Creativity) keeps us kind of grounded. It keeps us exploring different things and challenging ourselves."
For more information on upcoming events, follow Kolorhouse.sdsu's Instagram . Information for entering Redbull's Doodle Art competition can be found on their website.
Editor's Note: Kolorhouse's registered title is Kolorhouse.sdsu for the on campus club at San Diego State University. Kolorhouse is the parent brand, which had no affiliation to the Doodle Palooza event on campus. The article referred to the club as just Kolorhouse. The Daily Aztec regrets this publishing error.