HOUSTON — It is easy to become distracted by the pomp and circumstance of the Final Four. 
Thousands of college basketball fans descend on a city as a 94-foot hardwood court is elevated in the center of a football stadium packed with 75,000 fans, national media members and former players as college athletes vie for a championship. 
For the San Diego State Aztecs, this is uncharted territory. With last weekend's wins over Alabama and Creighton, SDSU booked its first-ever ticket to the biggest college basketball event in the world. The team arrived in Houston on Wednesday and received a tour of NRG Stadium, the location of this years' Final Four, before meeting with media members both Thursday and Friday before an open practice in front of fans in preparation for Saturday's showdown with Florida Atlantic University.
Highlights from the @Aztec_MBB team's first open practice at the NRG Center on Friday, Mar. 31.

🎥 @morganprickett1 pic.twitter.com/ZL5alLiIGx

— Daily Aztec Sports (@DAztecSports) March 31, 2023
Despite all the festivities surrounding the game, ahead of Friday's open practice head coach Brian Dutcher said he is trying to keep his team focused on the game. 
"I told them there's a lot of distractions, but a lot of great moments — embrace them," Dutcher said. "When it's time to focus, focus. Embrace it, enjoy it, it doesn't happen often but when it's time to lock in for practice or film session, you have to do that." 
Just two weeks ago the Aztecs were preparing for their first-round matchup with the College of Charleston. SDSU hadn't won a single NCAA Tournament game since 2015 and none in the six years with Dutcher at the helm. 
Now just 13 days later, they sit at the precipice of immortality. Senior guard Adam Seiko said he's been taking it all in after defeating his brother, Arthur Kaluma, in the Elite Eight. 
"(This week) has been crazy," Seiko said. "(San Diego) has been going crazy. It's been a blessing to win the Elite Eight. This team is resilient. These guys, from July, to August, to the early practices, to now, our growth has been crazy." 
But getting to this point isn't enough for Seiko. This is his sixth and final year apart of the Aztec program and he said in order to end his final season on top, there is still work to be done. 
"We've been preparing for FAU," Seiko said. They're a really good team. We're not going to look past them at all. We got better in practice this week. We were able to get into the arena yesterday, get shots up, get our rhythm going and prepare for them more. It's good to be here, blessing to be here and we're just focused for the game Saturday."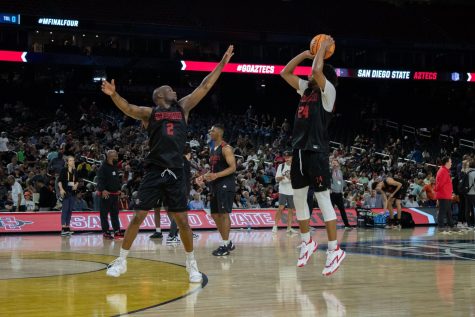 The FAU Owls pose a real threat to the Aztecs. Despite being a nine seed, the Owls won the East Region after defeating the stout Tennessee Volunteers in the Sweet Sixteen and the electrifying Markquis Nowell and the Kansas State Wildcats in the Elite Eight. The Owls enter with a staggering 35-3 record and have a roster filled with talented players that can swing a game. 
That's why senior guard Matt Bradley said Dutcher is stressing the importance of concentrating on the task at hand. 
"It's kind of like an all-star environment here, but our coach just wants us to be focused and work on those small details it's going to take to win this game tomorrow," Bradley said. 
Teams like FAU and SDSU are not the usual participants in the Final Four. It is just the second time since the tournament expanded to 64 teams in 1985 that two mid-major teams are meeting in the semi-finals but Dutcher said these teams are ready to show what they can do under the brightest of lights. 
"It has that festive feel," Dutcher said. "But at the same time, we're ready to compete on the biggest stage for the biggest title there is in college athletics."