HOUSTON— Following Monday night's 76-59 loss to the University of Connecticut in the NCAA championship game, four San Diego State players made their way to the interview dais in the depths of NRG Stadium — Nathan Mensah, Matt Bradley, Adam Seiko and Aguek Arop. 
There was a striking commonality between the four Aztecs. As seniors, they had all just played their final game in the Scarlet and Black. Head coach Brian Dutcher said this was why he chose the four to represent the team following the loss. 
"Because they were seniors that used up eligibility," Dutcher said. "They've given everything to the program. What better group to hear from than guys that have been here for five and six years and poured all into it, and to see the raw emotion and to feel good about college athletics when you hear from kids like this. From young men like this."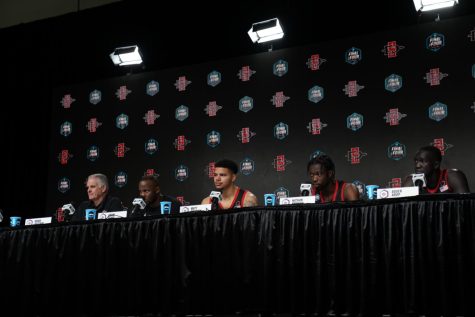 All four were key rotation pieces for Dutcher as the Aztecs put together the deepest run in program history by shocking the nation en route to the program's first-ever championship game, overcoming deficit after deficit along the way. When asked what he would remember most about this year's senior class, junior Lamont Butler said it was this never say die attitude. 
"Their determination," Butler said. "They decided to come back and try to win a national championship. They did all the little things to help us win. Not everything that was in the stats, they guarded, they were leaders, we're going to miss them for sure." 
The four will certainly be missed on the court. Bradley was the Aztecs' leading scorer both years since transferring from Cal-Berkeley. Mensah is the two-time Mountain West Conference Defensive Player of the Year. Seiko is the winningest player in Aztec history, and it seemed like all season Arop made the hustle plays when the Aztecs needed them most. But for junior Micah Parrish, he said he will always remember what the four brought to the locker room. 
"They always kept a positive attitude," Parrish said. "AG, Adam, Nate, it was just a joy to be around them every day. That's something I'll miss." 
The loss is a bitter ending to a truly sweet season. After a canceled tournament in 2020 spoiled a 30-2 season followed by two straight first-round exits the following years, these seniors led the Aztecs through the South Region and all the way to the college basketball season's final game. Bradley said he will always remember this team for its perseverance.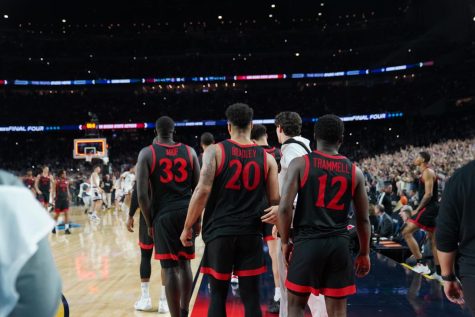 "It's just a great comeback story," Bradley said. "I'm so lucky to be part of the team where I was able to set the precedent for what this team has to come. I can see it in everybody's faces returning, they want it again. We're sad but ultimately, we just gotta keep our heads high and just realize we got a great comeback story this season."
The future is unclear for the four seniors. They now leave SDSU with spectacular careers in their rear view but according to Dutcher, they should have no regrets about their time on the Mesa.
"These guys have given me everything they had," Dutcher said. "This is what these guys are all about. It's about college athletics. They're good people, and they're good students and they're really good players. We can feel good about the things they did."
Aztec fans will have numerous memories from this basketball season, but they surely will never forget the four that stepped to the podium after tonight's game.