A new punk-pop artist is on his journey of becoming a rockstar, and he's proving that's exactly what he is.
Rising musician Jaden Hossler, also known on stage as jxdn, performed his 35th show of his "I Hope This Never Ends" tour at the Observatory North Park on April 17. 
This performance — as the tour kicked off in early 2022 — marked his second to last show in the United States, and Hossler has already made stops in major cities across the nation and Europe.
Back in 2019, Hossler gained popularity through TikTok as he established himself as a legitimate content creator going viral for countless numbers of videos. The aftermath of his growing popularity led Hossler to quickly develop a beloved fan base, currently holding 9.3 million followers and 292.6 million likes on TikTok.
Hossler swiftly transitioned into music, independently releasing his first single, "Comatose" in 2020, catching the attention of Blink-182 legend, Travis Barker. Barker signed Hossler as the first artist on his label, DTA Records, in a joint deal with Elektra Records. Ever since his signing with the label, Hossler has since released an EP, an 18 track studio album, collaborated with renowned artists and headlined his first tour last year. 
At only 22 years old, Hossler is creating a real name for himself within the music industry by exploring new writing styles and sounds bringing refreshing aspects of alternative indie punk, true pop-rock and even emo rap.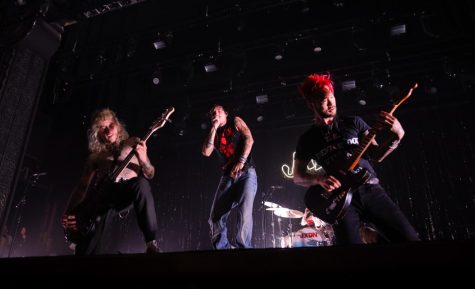 Naturally, the line outside the Observatory North Park was already wrapped around the block an hour before the doors even opened for the show. Fans were eagerly awaiting while dressed in variations of edgy glamorous outfits. 
Hossler's guitarist, Kenji Chan — who has been touring the world for nearly 20 years — stood off to the side casually conversing with a few fans, embodying all aspects of boldness, defiance and coolness. 
Chan initially attended San Diego State University some time ago but dropped out to pursue music full time. He, however, made sure to mention that he did love SDSU the little time he attended.
"I dropped out at 17 years old, I'm 38 now, and it's been a journey but a good one," Chan said. "I love Jaden (Hossler). He's probably one of my favorite artists I've ever worked for. He's a good guy, a good soul, good intentions and his music is fun to play."   
Before Hossler and Chan took the stage and unapologetically rocked out for 17 songs, Beauty School Dropout opened and set an electrifying tone for the night.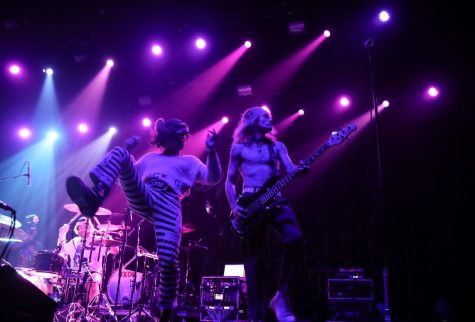 The band is best known for their album "We Made Plans & God Laughed," in which they performed with an insane amount of energy. 
From the moment the band came sprinting on stage, the crowd started head-banging and jumping along with them. The renegade-pop group surprisingly covered "Love Story" by Taylor Swift, which lit a fire in the audience just in time for Hossler's arrival.
With only black streamers and a glowing "JXDN" sign, Hossler and his band came out to ear- piercing screams and his recent single "Friends With Benefits." 
As Hossler moved through his initial songs of the night, "DTA," "DEAD OR ALIVE" and "LAST TIME," the crowd made sure to sing every word right back to him, matching the passion he sang with. Hossler's performance is so remarkably captivating that you find yourself not wanting to look away.
The set often broke into rock instrumental interludes where drummer, Tosh Peterson, would play at a fierce and impressive rhythm — all while Hossler transitioned from each song or jumped off the stage so he could embrace and connect with the audience. 
"Music saves lives. This tour has changed my life," Hossler said. "I'm just Jaden. This is real life, man. No barriers, no distance, this is what it's all about."  
The venue's atmosphere shifted the moment Hossler brought out a single chair in the middle of the dimly lit stage. He encouraged the audience to focus on what they were feeling at the moment, and he began singing a cover of "Yellow" by Coldplay. The crowd simultaneously turned into a sea of flashlights while Hossler's voice displayed nothing less than pure talent. He hit every note perfectly while maintaining his unique and distinctive voice that managed to make the song his own.
Hossler's songs are often self-reflective and dive into his battles with mental health. 
The live performances of "Prey" and "TELL ME ABOUT TOMORROW" felt more authentic and stripped back than the studio versions. Hossler dedicated these songs to his best friend Cooper Noriega, who passed away last year, and it was beautifully conveyed. His performance was extremely raw, resulting in tears from not only Hossler but many of the fans in the audience as well.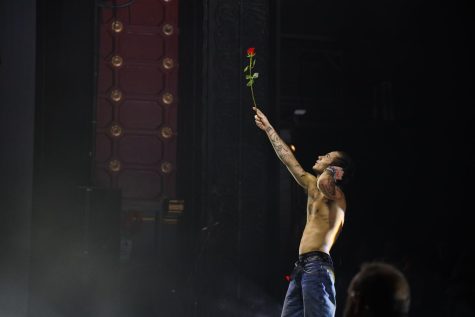 "I listen to his music because each song tells a story," Natalie Millsap, an SDSU sophomore business major, said. "He just stands out. You can tell he puts so much thought into everything he creates."
The opener, Beauty School Dropout, also made their way back on stage to sing their latest single, "FREAK," that features Hossler. Together, they looked like best friends having fun and doing what they love. 
Throughout the rest of the night, Hossler made sure to pay tribute to fan favorites, such as "BETTER OFF DEAD," "SO WHAT," "WANNA BE" and "ANGELS AND DEMONS." He even teased unreleased songs, "Taste like Heaven" and "What the Hell," which will be a part of his next album dropping June 28. 
Hossler never lost the audience's attention between the fast tempos, distorted guitar riffs, upbeat melodies and aggressive drumming. 
It seems like Hossler has found a way of making the nostalgic genre new and refreshing. Sure it's a representation of what's old, but it is also exciting.
Before ending with an encore of  "Elevated Heartbreak," Hossler generously thanked his fans for their everlasting support. There's a shared understanding and compassion between Hossler and his fans that's really unique. 
In a final display of his adoration, Hossler held a bouquet of red roses and threw them into the audience, only keeping one to lift up and gently place upon the stage. The crowd was left with an unforgettable sense of concert euphoria that only a true rock star can pull off.
While Hossler might have closed out his "I Hope This Never Ends" tour, he is anything but finished. This summer, Hossler plans on releasing his second studio album, which he told the crowd has some of the best songs he has ever written. Explore Hossler's music on Spotify under his artist name jxdn, to see how endless his possibilities are within the world of punk-pop.