Just as the sun hits its peak, the Ocean Beach Farmers Market comes alive. It's a sensory dream with glimpses of art pieces in every direction, piles of strawberries and sunflowers to smell, custom turquoise stone rings to try on, cheese spreads to taste and acoustic performers to hear.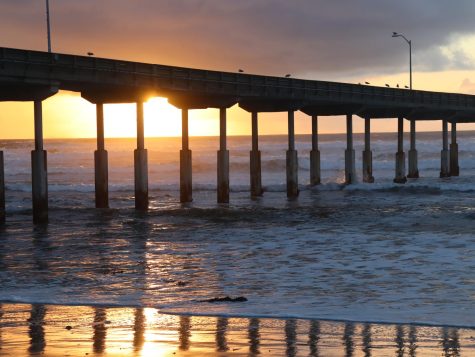 The Ocean Beach Farmers Market will make Wednesday your favorite day of the week.
Located in the heart of the beachside neighborhood in San Diego, the OB Farmers Market is held every Wednesday evening from 4-8 pm, rain or shine. Newport Avenue in Ocean Beach quickly turns into a bustling marketplace that features everything from local farmers, artisans, food vendors selling fresh produce,delicious snacks, handmade crafts and vintage clothing.
The avenue radiates an infectious energy with contagious smiles that make it impossible to not join in. The OB Farmers Market is as fun as it gets.
With over 100 vendors, the open-aired market makes deciding what to eat a near impossible task. The fear of missing out quickly sets in, but a full lap of the market tasting and trying samples tends to do the trick.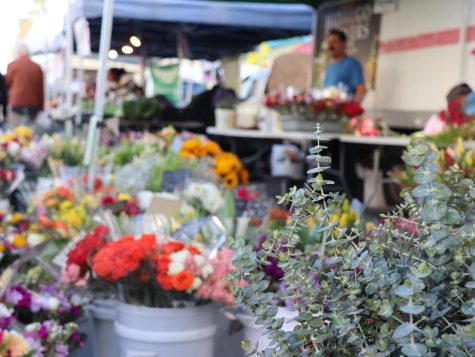 It is the diversity of the vendors and trucks that makes the OB Farmers Market so special. There are fresh bao buns at House of Bao next to Island Life Food, which sits across the street from "FatBoyz Pizza" with a savory woody aroma that smells like comfort and happiness. Through the crowd of people, you can hear the sizzle of grilled cheese sandwiches being cooked parallel to vegan Thai food and enormous philly cheesesteaks. The scent alone is enough to rekindle the familiarity that comes along with family barbecues. The market's range of cuisine perfectly encapsulates the multicultural community of San Diego.
Vanessa Melhem, a junior and interior architecture major at San Diego State University, missed her Wednesday class to be at the market. Her favorite food vendor is Flavors of East Africa. 
"I feel like  (the OB Farmers Market) has a different atmosphere," Melhem said. "The food is delicious and you can tell everyone is enjoying themselves. The vibes are so good."
With multiple cooks at The Flavors of East Africa booth freshly grilling meat with their signature turmeric spices and coconut curry sauces, the food looked and smelled heavenly. Flavors of East Africa is just one of the many food options, which also has a location at SDSU.
With a lively spot at the farmers market, as well as a location in West Commons on campus, Olive Oil Cafe is a family-owned business that specializes in gluten-free gourmet sandwiches and original pastries. If students have been to Olive Oil on campus, then they will definitely recognize Adam Elhag, the vendor who is often the face of the family business.
"I love it here," Elhag said. "It's a relaxed party on the beach. You can get a dessert here, then go enjoy it while watching a drum circle by the water."
The OB Farmers Market gladly accepts live music and entertainment. Local musicians will often be on the sidewalks singing popular covers of songs and passing out their mixtapes. You might even come across "Joe Dreamz" who encourages the market-goers to rap along with him. Whether the performances are eccentric or more serene, they add to the unique festival-like atmosphere that makes up Ocean Beach.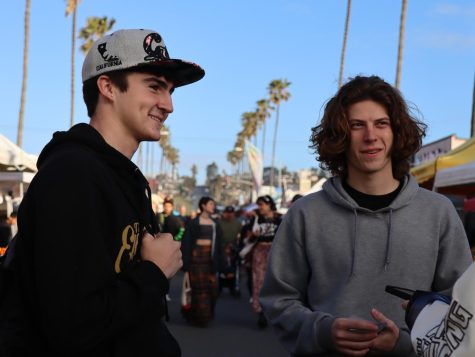 In the midst of the flowers and fresh produce, SDSU's very own funk-rap band, The White Collars, who also performed in the Daily Aztec' s Basement Beats, attended the market. The White Collars members, Cameron Power and Niel Kuhn, are originally from Ocean Beach and are well versed on all things OB Farmers Market related. 
The two musicians explained how they were out promoting a show for an internship they managed to get through Aztec Music Group.  
"The best kind of people are here, that's why we are standing in the middle," Power said, smiling. "All jokes aside, people need to come to Ocean Beach, especially the market." 
The true individualism and creativity of the market is unleashed in an area to the side of the main avenue. Under a new mural celebrating San Diego Padres baseball superstar, Fernando Tatís Jr (nicknamed "El Niño"), the space is dedicated to all things clothing, jewelry and art related. It's the ideal place to discover character pieces and rare goods.
Between vintage race car jackets, beautiful handcrafted earrings and sunglasses that are the definition of a statement piece, pulling out a wallet is inevitable. The market also showcases funky canvases, rare records and even custom decor that spells out Ocean Beach with letters from different license plates.
The people who shop at the OB Farmers Market ooze coolness. The style on the avenue covers everything from comfy chic to cottagecore to true vintage clothing, which is reflective of the open-mindness amongst the crowd.
There truly are no barriers in Ocean Beach. Whether that entails people bringing their many dogs or shoving their face with street food in the middle of a crowd rush, everyone is unapologetically themselves. It feels like a safe place for anyone to be whomever they want to be.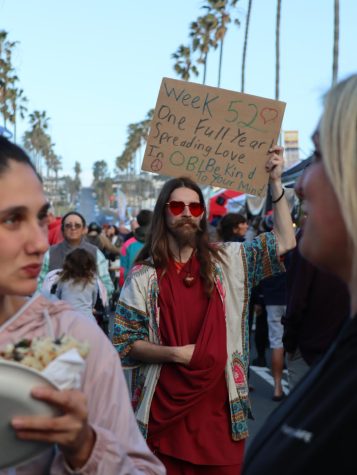 Orion McAllister, often referred to as "OB Jesus" or the "OB Hippie" because of his appearance, attends the market every Wednesday, not missing a single week for a year, with a new sign and a mission of spreading love. McAllister, with his shoulder length hair, long beard and mustache, heart shaped glasses, and robe with bohemian style prints, carried a sign revealing the message "Week 52. Be kind to your mind" with peace signs filling the empty space. 
"I'm here embodying love and spreading affirmations to remind people of their own worth." McAllister said.
This market is an experience that allows for connecting with so many different lifestyles. In a sense, it is the best of what the free-spirited beach town has to offer. From a visitor to a local, Ocean Beach provides a warm-hearted welcome to its supporters as they immerse themselves into the culture that makes up the farmers market.
The Ocean Beach Farmers Market is made for self expression, and as "OB Jesus" once said, "Expressing yourself is loving yourself."