With a mission to create on-trend, sustainable fashion for all, the widely known clothing brand Princess Polly has hit the West Coast for their "Back To School Roadshow."
From Aug. 24 to Aug. 25, the renowned Princess Polly Jeep — covered in a bright baby pink wrap and larger than life sized cherries — parked itself outside the Starbucks on College Avenue. The Jeep resembled cues from pop culture and current street style, luring in just about anyone who walked by. Campus representatives of Princess Polly stood in matching cherry red shirts and trucker hats, welcoming the line of students wrapped around the block with a variety of free merchandise. 
As the initial designation of their six-stop college tour, San Diego State students greeted Princess Polly with open arms, and the "Back To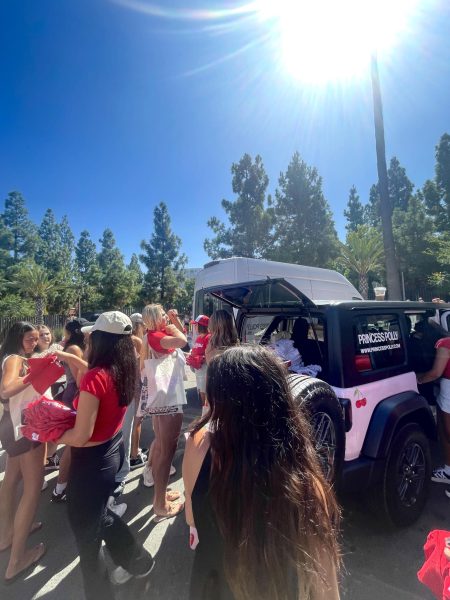 School Roadshow" radiated enthusiasm. Students seemed eager to receive the new, chic clothes and learn how to get involved in their college ambassador program — it was lively. Students were scanning informative QR codes, conducting mini photo shoots with their goodies and even connecting with those who already represent the brand at SDSU. 
Chloe Momet, a senior whose major is in psychology, was one of the campus leads for the San Diego leg of the "Back To School Roadshow."  
"I recently got involved with the Princess Polly college ambassador program and it has genuinely been so much fun," Momet said. "Everyone from the company has been so welcoming and sweet, and when they mentioned bringing freebies to SDSU, I immediately wanted to get involved. We have been handing out freebies to promote the brand on campus and to share the amazing mission of Princess Polly."
The Princess Polly college ambassador program is a newer marketing initiative that involves collaborating with college students to promote the brand on campuses and through social media. 
Their goal is to help ambassadors gain experience in the fashion industry, while maintaining sustainable and trendy pieces. To an extent, they are turning students into micro-influencers that will then guide the fashion narrative worldwide. Student ambassadors experiment, explore and buy the latest fashion trends at a discounted price in exchange for sharing their discoveries with their own social media platforms.
While the brand's influencer-ready aesthetic has cultivated a devoted and beloved consumer base among college students, their audience within this demographic is still evolving. It's truly inclusive; no two students queued in line were wearing identical clothing.
"Dressing in Princess Polly clothes has totally allowed me to expand my style and step out of my comfort zone with what I wear," Momet said. "There are so many items of clothing and so many different styles incorporated on their website, which made me feel like I could create my own style super easily." 
Once reaching the front of the line, students had a choice of a Princess Polly special edition T-shirt and tote bag that included stickers, a notebook and a hat. The brand  representatives running the pop-up encouraged everyone who walked up to the Jeep to apply for the college ambassador program. 
While the environment was chaotic at times, the Princess Polly leads managed to answer questions and provide assistance when needed. 
Sophia Walker, a first-year, was familiar with the brand Princess Polly but had never purchased anything from them before attending.   
"I was encouraged by my friends to check it, and it ended up being really cool," Walker said. "I'm definitely going to be scrolling through their website later."
In the whirlwind of vibrant fashion and youthful energy, Princess Polly cracked the code to trendsetting. While the "Back To School Roadshow" resumes its road trip up California, SDSU students continue to embrace both style and education.