Neon lights lit up the late summer horizon as flocks of young college students stepped onto campus late at night. They stood in fast-moving lines for fried food and colorful rides and games. One game gave the chance to throw a single basketball into a faraway hoop while rides and screaming students spun behind them. The winners jumped for joy and handed the plush shark prize to their loved ones. The losers shook their heads and stood in line to try again. "I'll get it this time," one carnival-goer said. "Fifth time's the charm, man."
The annual Carnival Night at San Diego State University is a night characterized not by the rides, but by the sheer amount of people coming together to kick off the year with new friends and free churros.
Third-year Dylan Esz, a psychology major, was one of many student employees helping to run the event. 
"I think events like this are important because they foster a sense of community and especially at the beginning of the year, it's a great way for people to meet each other," Esz said. "You meet random people in the lines because you start talking to people obviously standing in line for the same thing as you. At the DJ booth, they were playing music and people were dancing together. It was really cute and wholesome."
Esz's words rang true as groups mingled on the sidelines across the carnival and chatted while waiting for attractions. One group in particular laughed as old friends, but some of them had just met hours before. Nikki Farouzi, a sophomore, was one of the students mingling with the new group.
"I went last year, it was a fantastic time to bond with people on my floor," Farouzi said, gesturing to the smiling people beside her. "I'm doing the same thing this year, and this time I've met some new friends, which is super nice. It's been a great experience, I love it. Love meeting new people here and I'm expanding my horizons a bit, which is awesome."
One of her new friends, Alexander Varga, a second-year student from Hungary, added, "My favorite part of the carnival is the spinny thing in the back, I don't know its name." 
The 'spinny thing' was the Gravitron, which was one of a few large rides set up that night as planned by the organizers of Aztec Nights.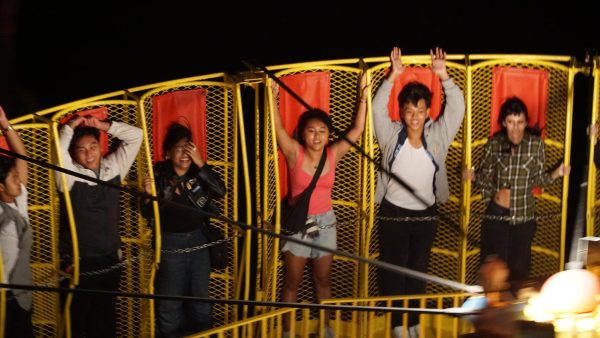 One such organizer, Dr. Florentino Ubungen, affectionately called "Dr. Tino" by students, is the associate director of the Center of Student Organizations and Activities. Ubungen played a large part in overseeing the event.
"I've been really blessed to work with all these different individuals on campus to collaborate and come together to put on this event," Dr. Ubungen said. "It's definitely a community initiative. These events are here for students to have fun, these are alcohol and drug-free events so it's a safe space. The goal is for students to just have a good time, and also to just celebrate being here and being a part of the SDSU community."
Ubungen's mention of the carnival as a safe space from alcohol and drugs is often an overlooked driving force of the event.
An unfortunate reality of college life is some students' excessive involvement in partying and alcohol use. But at nights like the carnival, it is wholesome and classic fun. Instead of the functions that attract freshmen like moths to a flame, the carnival and related SDSU events represent a safer alternative light. 
"We know there are parties happening because obviously, we have a big Greek life scene here, and at the end of the day, nobody can control students and stop them from going to parties," Esz said. "We can only encourage other positive behaviors. Anyone can tell them to not go to parties but that's not going to stop them. Instead, places like this are safe havens for those people coming back from parties, they might be intoxicated and under the influence, here we can give them food and a safe space to detox."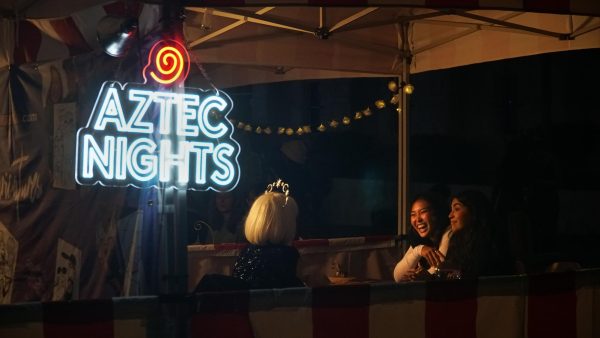 Although the classic frat events were occurring nearby, in the realm of the carnival's inflatable slides, sugary fingers reaching for another churro and plush toys, they were momentarily forgotten. The SDSU carnival kicked off the year with excitement, relaxation and of course, safety.
As the night came to a close, the neon lights of the event reflected on Hepner Hall, which towered over the "spinny things" and satisfied students below. They filed out of the event, and from the look of their faces, the words of fellow student Nikki Farouzi might have applied to them all. 
"Oh yeah, I'll be back next year," Farouzi said. "As long as the people and the churros are here, it's a good time."