LA JOLLA, Calif. — The San Diego State women's volleyball team opened the UCSD Invitational by sweeping the Tritons at LionTree Arena 3-0 on Thursday, Sept. 7.
The Aztecs battled through three sets, winning 25-19, 25-22 and 25-21 by establishing control early. SDSU's offense was the key to their victory totaling 50 kills on 106 attacks with 48 assists.
Outside hitter Madison Corf set the tone with five kills on nine attacks in the first set. Corf led the team in kills with 14 total, one of which sealed the first set. She also made her presence known on defense, protecting the court from the Tritons with eight digs.
Outside hitter Heipua Tautua'a was not far behind, leading the team in points with 15.5 and recording a total of 13 kills along with three digs. Tautua'a was a key factor during the second set, generating five kills on 13 attacks and an ace.
In addition, Mikela Labno and Julia Haynie made big contributions to the game. Labno was third in generating kills with eight, along with two digs and a team block. Haynie also added seven kills and a dig.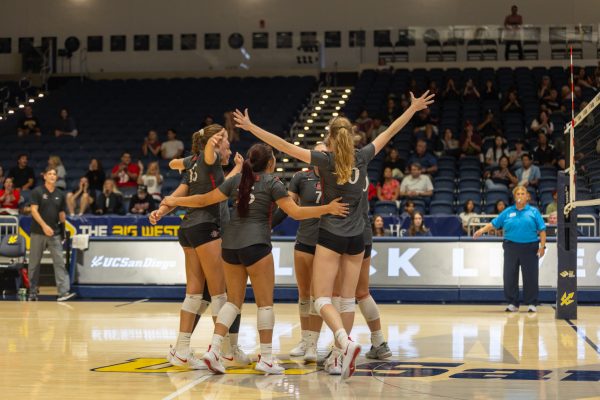 Setter Sarena Gonzalez generated opportunities for the Aztecs. Gonzalez led SDSU with 25 assists and also got her name on the scoreboard on the first serve of the third set with the final ace of the night. Gonzalez shared the workload with Fatimah Hall, who accounted for 18 assists and five digs.
The Aztecs' Elly Schraeder had a noteworthy night defensively, accounting for two of the five team blocks and four block assists.
The Tritons rallied back in the third set to take a 16-13 advantage, but after head coach Brent Hilliard called a timeout and regrouped the team, the Aztecs outscored the Tritons 12-5 to close out the match. In total the Aztecs outscored the Tritons 75-62.
SDSU remains undefeated in the 15 encounters with the Tritons since 1977. The Aztecs snapped a five-match losing streak with the win against the Tritons.
The Aztecs will remain in La Jolla to face the University of Denver for their fifth meeting in program history on Sept. 8 at 4 p.m. The Scarlet and Black will  close the Invitational with a first-ever match against Navy on Sept. 9 at noon.