Iota Eta Pi, San Diego State University's only improv team, held their first show of the year on Sept. 15. Hosted in the backyard of one of the performers, the stringed lights created a warm and homey atmosphere where students sat in the grass with their picnic blankets. 
The lively and colorful performance featured a number of unique games, incorporating audience participation into each skit for an engaging and thrilling performance. Constant laughter erupted from the audience as the actors delivered their witty and clever lines — all made up purely on the spot. 
For the first game, the actors could only say lines taken from the text messages of three audience members' phones. However, even this tricky challenge couldn't thwart the creativity and humor of their rapidly-changing skit. The show frequently switched between plots, settings and characters for a whirlwind of an experience.
For their grand finale, the actors introduced oxygen deprivation, a game in which four actors are on stage but only two are acting. 
The other two were on the sides with their heads fully submerged in a tub of water, testing the limit of their lungs while also trying to hear what's going on in the scene. When the actors could  no longer hold their breath, they waved their hands to swap places with another actor and were thrown back into character. The result: drenched actors, loads of audience laughter and water everywhere.
The passion of the performers is undoubtedly present and fuels the fire of this vivid and colorful performance.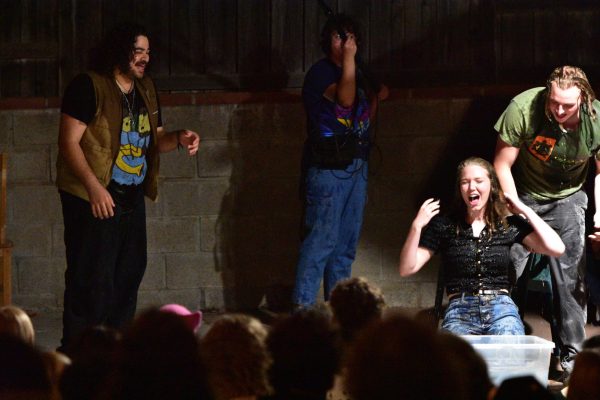 "(Improv) encourages people to be their most authentic self and let (their) creativity wander as far as possible," said Brenna Martinez, a performer and senior who has done improv for several years. 
Martinez also loves how improv "only happens once." Therefore, every show is a unique experience for performers and audience members alike.
For many of the actors, improv gives them a creative outlet and feeling of community.  
"Improv is the one place for spouting off, going crazy, and just having fun," said Finley Louch, a sophomore and performer. 
Josh Girard, a senior, also shares the exact sentiments as Martinez and fellow performers. He describes his improv team as a place to connect with others who enjoy participating in unpredictable performances.
Other members like Sean Kim, a sophomore, found himself coming out of his shell by improvising in front of an audience.
"Improv does a lot for me personally — in that I'm able to put myself out there, but also without (the) fear of being judged," Kim said.
Ryan Kaufman, a sophomore, said he saw almost every show last year and loved it. His favorite part of this performance was oxygen deprivation, which he says was hilarious, even before the performers started talking. Kaufman said he always leaves these shows in a good mood and noted that he will definitely be back to see more.
The aspect of improv that everyone seems to love is how it can make them laugh. It's so easy to get caught up in the everyday stress of college student life, but sometimes just having a good laugh can be the cure-all.
The audience simply couldn't get enough of them. To catch their next show, follow their instagram @sdsuimprov.