Following the success of the 2022-23 basketball season that came with a trip to the NCAA Men's National Championship Final, sophomores Miles Byrd, Elijah Saunders, and Demarshay Johnson Jr. all had a sense of what it was like to play on a Final Four-competing team, despite not getting much playing time.
For Byrd, he'll prepare for a bigger role within the team after appearing in only four games off the bench last season. As a freshman, Byrd averaged 4.3 points and 0.5 rebounds, seeing 10.1 minutes per game. He also added six assists and two steals in his 40:18 of total game action.
Coming out of Stockton, California, Byrd has been appreciative of his opportunities to contribute to the team.
"I think there's not a lot of opportunity to come out (and) say 'I'm a division one basketball player' — that's a huge honor," Byrd stated. "I'm grateful and now just want to keep trying to bring honor to the city."
Byrd will have the ability to do just that following the departures of several veteran players. The second-year player understands this, while also valuing the important experience that came with learning as a freshman on the team.
"I think being able to take that backseat role and learn and observe from guys like Adam Seiko, Matt Bradley and guys who were above me," Byrd said. "They ultimately shaped me into the player I am right now."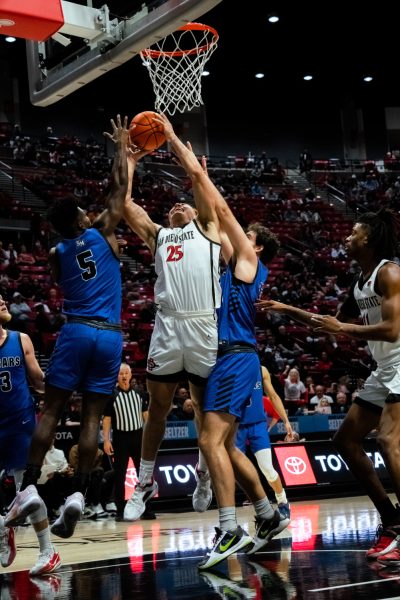 A four-star recruit out of high school, Saunders appeared in all of his 16 games off the bench, averaging 0.9 points and 1.1 rebounds in 5.8 minutes per game. In 92:48 minutes of action, he also added eight assists, one blocked shot, and one steal.
The six foot, eight inch forward spoke on how last year's team proved dynamic to find success, while he also believes there's greater potential for more going into this season.
"I feel this team is a lot different than our last year's team and lost some really key guys on beat," said Saunders. "I feel like this team is more offensively explosive and powerful on offense."
Speaking on a personal level for the season, Saunders is looking forward to honing in on his skills and ability to perform on a high level.
"I just want to impact winning and be a part of why we win," Saunders stated. "As long as I can help us win, that's my goal."
Starting in Richmond, California, Johnson Jr's basketball career has taken the six foot, ten inch forward to be in a featured role this upcoming season. As a redshirt freshman, Johnson Jr. appeared in nine games off the bench, averaging 0.9 points and 0.6 rebounds in 3.4 minutes per game. In 30 minutes of court time, he also added an assist and a block as well.
Johnson Jr. spoke on how he prepared throughout the offseason, as he expects to see an increase in production this year.
"I pretty much focused on conditioning for a good chunk of the summer, making sure I'm able to run up and out on the court as much as I can," Johnson Jr. said. "That way I can stay in the game for as long as possible, as long as my team needs me."
The three second-year players won't be the only ones expected to carry the load, as transfers Jay Pal and Reese Waters are set to be prominent in the rotation for the team.
"Both of those guys are great players. Both can score the ball, shoot the ball, do whatever they want on the court," Johnson Jr said. "I'm just excited to see them out there doing their thing."