It's not often that a giant inflatable football occupies the Student Union. However, Associated Students and the SDSU Alumni organization went all out for the Homecoming Kickoff Festival on Nov. 4. 
Alumni and current students alike enjoyed live covers of '90s hits while playing various lawn games and connecting with the Aztec community. Additionally, the event raised money for the San Diego Food Bank, Aztecs Rock Hunger and the on-campus Economic Crisis and Response Team that aids students dealing with food and housing insecurity. 
Jen Ranallo, Alumni Relations specialist and co-chair of the Homecoming Steering Committee, explained that the event's primary goal was to welcome alumni back to SDSU. 
There are more than 500,000 SDSU alumni at large, and Renallo's job is to foster Aztec pride, even for those no longer attending the university. Events like the Homecoming Festival re-engage alumni with the place they used to call home. 
Because football games are now hosted at Snapdragon Stadium, Ranallo also wants to provide an opportunity for Aztecs to continue the tradition of gathering on campus before sports events.
"Returning alumni say there's just something special about SDSU," Renallo said.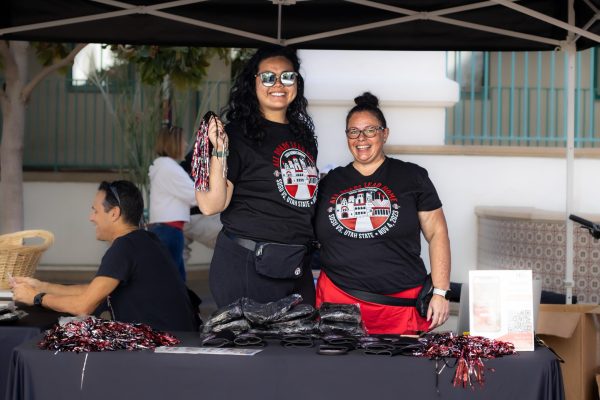 Steve Luckenbach, a graduate of '72, travels annually from the Bay Area to visit the campus. Raised by alumni parents, Luckenbach recognized the special qualities of SDSU from a young age and knew he wanted to attend. 
By remembering where they once stood and reflecting on the impact of the SDSU community on their own lives, alumni also feel inspired to aid current students. 
Stephenie Dathe, an alumna of '95 who is the executive director for SDSU Alumni, expressed that when she graduated she realized the importance of having an alumni network. 
Students can rely on the larger SDSU community for professional and career support when entering the "real world."
Events like homecoming are about the impact that community members of all ages can have in uplifting each other.
Leah Hutchful is a senior business marketing major and programs assistant for the Aztec Student Union Board. She said that she joined A.S. so that she could give back to the SDSU community, and create programs that help others feel the sense of a community. 
"Homecoming is a time to reconnect and reflect on our time here," Ranallo said.
Jason Maher, class of '02 and '12, is a local who regularly brings his young children to campus to play. Maher said it's important that his children learn that SDSU is far more than just a place of academics—but a place to enjoy life. 
Like Maher, Ethel Espino, class of '07, also brought her kids to give them a glimpse into the life she led before becoming a mom. 
"SDSU is this incredible community of good people, and I want my children around them," Maher said.
In order to fully nurture the SDSU and the greater San Diego community, organizers of the event realize that fulfilling the basic needs of its members is vital.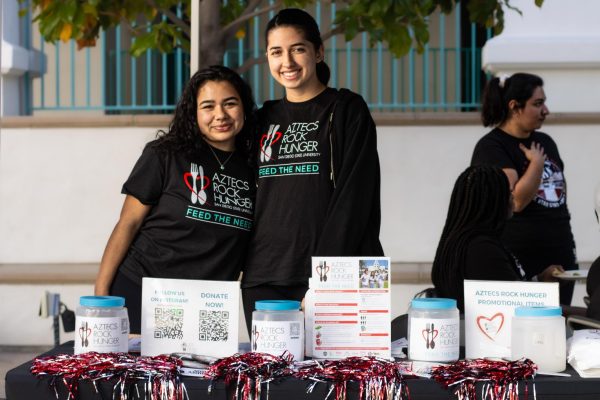 For every dollar donated, Aztecs Rock Hunger provides six pounds of food for students facing food insecurity. 
Katie Peabody is a junior majoring in public health who serves as a volunteer coordinator for the organization. Peabody mentioned that even if an individual cannot donate money, they can volunteer their time. 
"If students are having to worry about where their next meal is coming from, how can they possibly focus on the exam that they have tomorrow, or focus on work to get that paycheck that pays for their education?" Dathe said.
It is through events like the Homecoming Festival that SDSU is able to reunite the Aztec community and continue improving programs that help everyone thrive. 
"I'm absolutely proud to be an Aztec for life,"  Luckenbach said.