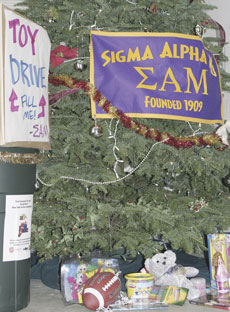 Jessica Swartz / Assistant Photo Editor
Students are embracing the holiday spirit and donating to the needy through Sigma Alpha Mu's "Christmahanukwanzakah" Toy Drive. New, unwrapped toys are being collected for San Diego State's toy drive, which began two weeks ago.
Collection receptacles and drop-off points are at all Panhellenic sororities and residence halls.
Marketing junior and Sigma Alpha Mu member Brian Hamilton, who heads the project, said they are having a good reception to the toy drive.
"This is the first year we've done it, and so far it's going great," he said. "Hopefully, we can do it again next year."
Hamilton said everyone is welcome and encouraged to donate.
"It's really a campus-wide toy drive," he said. "Anyone can donate if they want to."
The drive is handled through The Salvation Army, whose organizational goal is to help those in need.
Amy Jankowski, marketing manager for The Salvation Army Ray and Joan Kroc Corps Community Center, said there is a systematic way of selecting families who are in dire need of help.
"The families go through a careful screening process," she said. "They need to demonstrate a strong desire to give their children a good Christmas, and we help provide them with everything they need."
Jankowski said for each family, parents come and pick out one big gift and a bunch of small stocking stuffers for each child. They are also sent home with a big basket of food.
All toys collected by SDSU students through the "Christmahanukwanzakah" Toy Drive will go directly to the community center located a few miles from SDSU on University Avenue.
Jankowski said the center, which is new to the area, provides family support, education, recreation and cultural arts. She said these support systems help San Diegans discover their talents, regardless of their circumstances. The center also provides them with an ice rink, gymnasium and aquaplex. Programs such as sport leagues, dance recitals and computer classes are held at the center.
"It's really neat that we have this center here now because the toys we collect go straight back into the community," Jankowski said.
She said the toys and collected foods at the community center alone will provide Christmas to more than 800 families in the College Area.
Journalism sophomore Amanda Venegas said she donated to the drive because children are really important.
"I think everyone can remember how special and important a new toy at Christmas can make them feel," she said. "Hopefully, it will bring a smile to a kid's face, and he can forget about his problems and just enjoy the holidays."
Venegas also said anyone who is lucky enough to be in college right now should be helping out those who aren't as fortunate by donating time, money or toys around the holidays.
Sigma Alpha Mu decorated a big Christmas tree in its house and is placing the donations underneath it.
"We have three huge trash cans to fill and plenty of space under the tree for all the toys we are getting," Hamilton said.
The toy drive is still going on, and donations can be made until Wednesday. To donate to the drive, bring a new, unwrapped toy to any drop-off place or to the Sigma Alpha Mu fraternity house located on Fraternity Row.