Allow street art on walls of new Aztec Center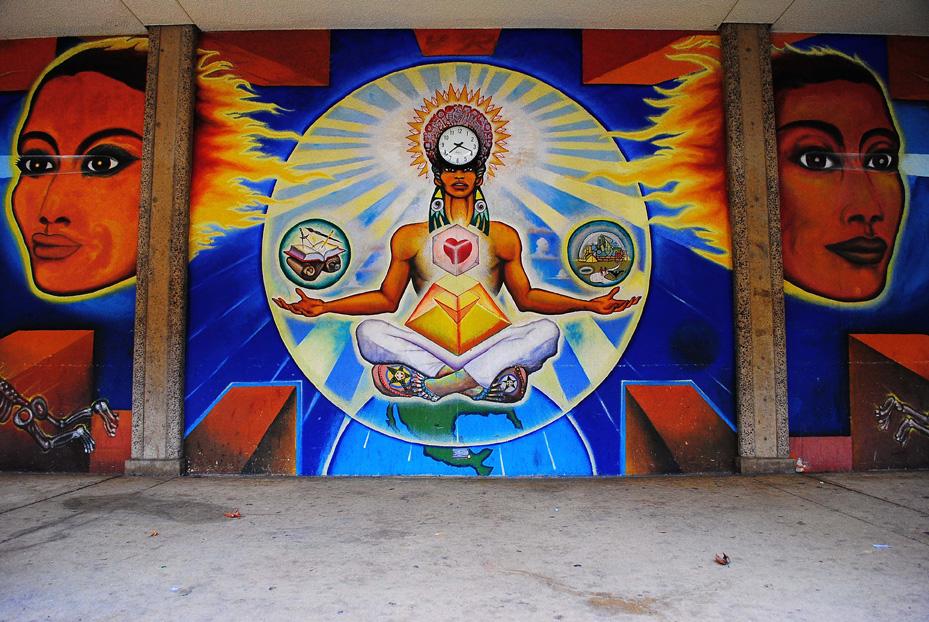 Courtesy of Leo Castaneda
Call it the working man's art exhibit: a pandemic of posters featuring a stark black and white face staring grimly outward; a vibrant space invader tiled underneath a freeway overpass; an image of the pope, in true Marilyn Monroe fashion, smiling and holding down his holy robes as they blow up in the wind; a stenciled caveman bearing a tray with a burger, fries and a shake.
It's a counterculture movement known as street art, and it's coming to a neighborhood, billboard, or dilapidated building near you.
These works aren't your grandpa's Norman Rockwell paintings. Street art is frequently laced with satire, often mocking over-consumption, our lavish Hollywood-ized society and "Big Brother." But unlike its artistic brethren hanging in art galleries and museums, urban art is intentionally placed within public view.
In that way, street art serves a greater purpose: Rather than herding people through extravagant, expensive and stuffy art exhibits, it directly exposes the public to artwork on a daily basis. It's common art for a common people 8212; art that all people can appreciate, regardless of social standing or salary.
The use of graffiti and posters as an artistic medium, though, is a double-edged sword. There's an obvious stigma against graffiti in this country. Critics dismiss most street art as vandalism. The government hasn't been much kinder 8212; street artists have time and time again seen their creative works painted over or removed in callous displays of censorship.
But those critics are forgetting the historical significance of street art. In the last presidential election, Shepard Fairey's iconic "Hope" poster added a massive artistic appeal for President Barack Obama's run for office. Graffiti art has been used on the Berlin and Palestinian walls, protesting the governments' imprisonment of their citizens. And even as far back as ancient Rome, evidence suggests street art was professionally created as political commentary.
The bottom line is that street artists are a far cry from the ski-masked hooligans who tag sides of trains and street corners. These are the Andy Warhols of our generation 8212; unconventional, satirical and critical of the institutionalized norms we've grown to accept as a society. The world is their workshop. The cracked, asphalt streets, rusted freeway overpasses and abandoned buildings, are their canvases.
But there's a fundamental problem when it comes to street art. It relies on displaying art in public, almost always on property not owned by the artist. Creating artwork on storefronts and other public arenas can, and has, caused tension between the street artist and the owner of the property, and perhaps rightfully so. Oftentimes the street artist creates their artwork without permission from the property owner.
Destroying these beautiful displays of artwork, however, is the wrong approach. We should encourage this movement to spread to the stores and universities of our communities.
Some stores have already started encouraging street art, incorporating it into the aesthetic design of their store. The Hillcrest Urban Outfitters has a massive mural from Fairey wrapped around the store's outside. The mural of John Lennon on Garnet Avenue in Pacific Beach is perhaps one of the most well-known images of the city itself.
But more must be done to preserve street art. Imagine San Diego as an art exhibit 8212; each store essentially its own canvas; white walls covered with vibrant and fantastic paintings. Imagine San Diego State decked out with a motley splay of colorful murals rather than series of austere advertisements taped to unanimated white walls. Art should not be hidden behind the doors of the art building on campus; we should instead be a campus exploding with artistic diversity throughout the walkways and paths of our school.
Local muralist Mario Torero's wall painting on campus, the only one at SDSU and an emblematic and inspired creation of Chicano art, faces possible destruction with the incoming Modern Space project, which has recently been dubbed the new Aztec Center. His artwork, now hidden away in the recesses of Aztec Center, needs to be a part of the updated Modern Space project.
As a location intended to be a student hangout area, art should play a part in the aesthetic design of the building. We have enough vapid, uninspired architecture on campus. We have enough Storm Hall and Adams Humanities buildings. To all of you at the top: Let the new Aztec Center be something students can be proud of 8212; a complex and diverse work of art.
8212;Chris Pocock is a journalism junior.
8212;The views expressed in this column do not necessarily reflect the opinion of The Daily Aztec.