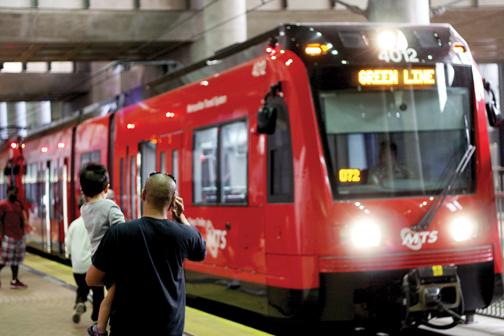 The San Diego Trolley network routes changed last Sunday. The new upgrade, dubbed The Renewal Project, includes direct trips to downtown on all lines. Additionally, downtown trolley stops now include the San Diego Convention Center and the Gaslamp District.
According to the Metropolitan Transit System website, the Green Line, which runs right through San Diego State, will continue directly to the downtown area, extending to the usual stop in Old Town to 12th street and Imperial Avenue.
Now, SDSU students have direct access to bars, shopping centers and restaurants in the Gaslamp District. Television, film and media senior Sarah Malone, said, the direct connection on the trolley line should make it easier for those who wish to drink and have a safe reliable ride home.
"I am so excited that the trolley is going to be going to downtown. Now, I will be able to explore more of San Diego," Malone said.
This is one of the many changes implemented by the SDMTS. The upgrade not only changes the trolley routes, but affects platforms, trolley cars, overhead electric wire and seating. The total amount of upgrades for the project will cost approximately $720 mil- lion and will be completed by 2015.
The MTS also invested $3.2 million toward increasing bus services and in many cases, changing the schedules so they correspond with trolley times to reduce the wait times and traffic aboard popular routes.
According to a MTS press release, these changes "will make traveling more conve- nient and relieve crowding on some of its busiest routes." With more than 275,000 passenger trips taken daily, these changes should help those who want to explore San Diego, as well as those who travel via public transportation on a reg- ular basis.
MTS trolley and bus passes start at $2.50 for a one-way pass and $5 for a regional day pass. There is no mention about a change in fare prices resulting from the upgrades.