Urban Plate offers healthy food at an affordable price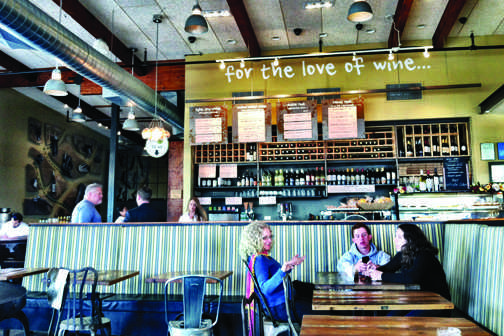 When I go to a restaurant, I always leave in an infamous food coma. Restaurants are constantly being associated with fatty foods, and it's time San Diegans see a fresh restaurant leaning toward a healthy lifestyle. Nestled inside the newly renovated and luxurious Del Mar Highlands Town Center located in Carmel Valley, Urban Plates is definitely on the list of new restaurants to try. With indoor and outdoor seating, UP shows off its vibrant and colorful ambiance in a unique and old-fashioned way. UP gives a variety of healthy options along with great quality food for an afordable price and serves its customers with healthy and contemporary food choices. With its motto "Farm to plate and won't break the bank," UP is a place to get fresh produce from local farms straight to the plate.  I entered the clear double doors and immediately noticed the furniture. The chairs were pieces of old metal along square wooden tables, giving it a rustic feel. Inside UP, one immediately notices wide-open spaces along with an open kitchen and a front-row view of the tasty fresh products to select from. I ordered my meal and it reminded me of an upscale cafeteria. UP has no waiters and the self-serving layout is just one way customers don't have to spend those few extra bucks on tips.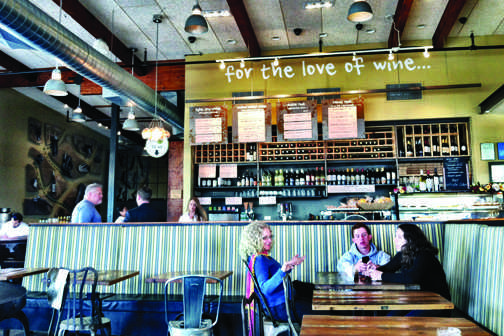 "Who wouldn't want to go to a place where you eat a healthy meal and pay no more than $12" local customer Nahid Fakhri said.
With $10 sandwiches and chicken or steak entrees to $5 organic soups and pizzettes, nothing should prevent customers from enjoying a hearty meal. My romaine lettuce salad was topped with organic baby spinach, cucumbers, mint and candied walnuts drizzled with white balsamic vinaigrette.
During my visit, local customers constantly came in to get a bite to eat. Most were students just getting out of school and others were health conscious men and women in gym attire waiting to eat something healthy.
Locals Poupak and Fardin Eshraghi are regular UP customers who brought their three children to the eatery.
"I always come here after a long workout at the gym," Poupak Eshraghi said.
Her husband elaborated, "What mainly intrigued me about UP is the freshness and great quality food for a price that I couldn't resist," Fardin Eshraghi said.
Not only does UP have a wide variety of organic products, it also has an array of mouth watering desserts in its bakery. The bakery consists of treats ranging from cakes and juicy lemon bars to soft chocolate chip cookies. All are butter-free or organic. I have a big sweet tooth and couldn't resist getting a butter-free, chocolate chip cookie. The cookie was the size of two hands with chocolate chunks the size of quarters. When biting into the cookie, it felt as though I was biting into a savory cloud of chocolate goodness. The best part about this restaurant is even the desserts are healthy. If that isn't enough, the beverages are organic: sodas, coffees, teas and lemonades. UP is known for its local craft beers and wines along with its specialty organic lemonades. Its tasty organic antioxidant ginseng mint green tea is a favorite among customers. With such an array of choices from entrees to the bakery in addition to the beverages, UP is giving locals a choice to take a healthy route. UP is open from 11 a.m. to 9:30 p.m. on Sundays through Thursdays and from 11 a.m. to 10 p.m. weekends. During lunch, the restaurant gets a little hectic and seating becomes scarce. UP has also given children the option to eat healthy. The kids' menu includes grilled cheese with organic wheat bread and organic pepperoni or cheese pizzettes. Parents shouldn't hesitate to bring their children to enjoy food at UP. Eating at a restaurant is one thing, but feeling full and knowing you ate something healthy is another, and that makes UP unlike its competitors.