Aztecs defeat Purple Eagles, lose to Akron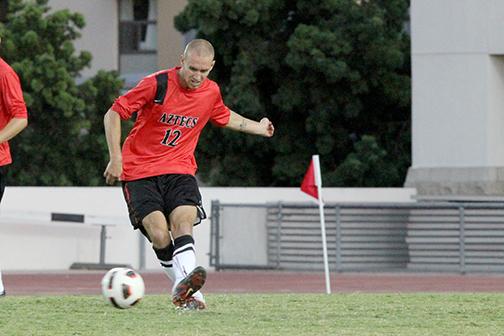 After starting the season off 1-2, San Diego State's men soccer team hoped to get back to their winning ways by taking down the Niagara Purple Eagles 2-0 in the first game of the University of Akron Tournament last Friday afternoon.
SDSU kicked off the tournament by scoring two goals in the first period, two minutes apart. They prevented Niagara from putting any shots on goal, making senior goalie Blake Hylen's life very easy.
Throughout the first game the Aztecs dominated in both time of possession and shots taken, leading this category 7-1 by the end of the first half.
After no score through the first third of the game, senior midfielder Casey Meuser put the Aztecs ahead in the 40th minute with an easy goal on an open net. Almost immediately after senior midfielder Blake Wise put another one into the back of the net off of a great combo assist by Meuser and senior midfielder Kody Duff.
Going into the game, the Aztecs were leading the PAC-12 in shots, shots per game and corner kicks.
The Aztecs were set to take on the No. 7 ranked University of Akron after starting the tournament on such a high note. Going into it, they knew it would not be an easy match by any means, and it proved to be just as difficult as they anticipated.
Despite being out-shot 26-6, the Aztecs maintained their composure and went into the locker room at halftime with the score tied 1-1.
After senior midfielder John Pegg was issued a red card and promptly ejected, SDSU was forced to play with only 10 men for the remainder of the game. Overcoming adversity, the Aztecs ended regulation with the score still tied 1-1 and continued into overtime.
Finally, after two periods of extra time the Aztecs lost control and conceded to Akron—it was a tough battle, but SDSU fought to the best of its ability.
The Aztecs are now 2-3-0 overall and are hoping to break even and bounce back this Friday, Sept. 20 against the Air Force Academy.
Photo by Jordan Owen, Senior Staff Photographer