A.S. council discusses campus updates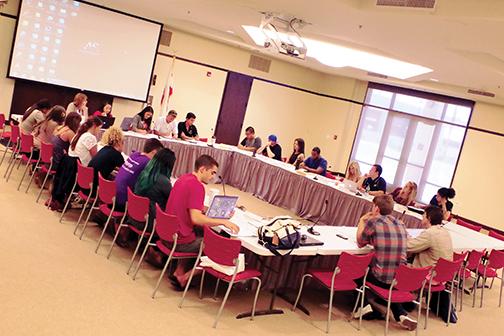 Last Wednesday at 3:30 p.m. the Associated Students held its third Campus Life Council meeting of the semester.
Aztec Student Union update:
With the Aztec Student Union nearing completion, the student union's Director Lynn Cacha gave a presentation to the council on some of its new features. The student union is set to become the first Leadership in Energy and Environmental Design platinum certified building on a California State University campus, Cacha said.
"Now that's something to brag to your friends about," Cacha said.
LEED certification is based on a rating system set by the U.S. Green Building Council to evaluate the sustainability and energy efficiency of new buildings.
Cacha also said the new building would offer a variety of new services such as foot washing stations in the bathrooms for Muslim students and gender-neutral bathrooms.
Alumni mentoring:
The SDSU alumni chapter coordinator Diane Barragan, called on the CLC to raise awareness about a new alumni mentoring program. The Aztec Mentoring Program is a pilot program that pairs seniors with alumni mentors to aid them with career building. Currently, the program has more than 200 alumni in mentoring positions, but only a small percentage of students have signed up for the program.
The registration deadline for this program has been moved to Oct. 4 and is now accepting junior applicants. The program will take place from Oct. 11 to Dec. 26 and will only take about 10 hours in total, Barragan said.
Additional field Space in SDSU's future:
The student Recreation and Wellness commission is investigating the possibility of converting the lot to the west of the now under construction Nasatir and Storm Halls into a field for student recreational use. Recreation and Wellness commissioner, Representative Tyler Aguilar detailed plans by his committee to look into adding as much field space as possible.
"By most university standards SDSU has a really low student-to-recreational space ratio," Aguilar said.
The lot is currently being used by the construction crews who are renovating Nasatir and Storm halls.