A big year for SDSU alumna, Mitzi Michaels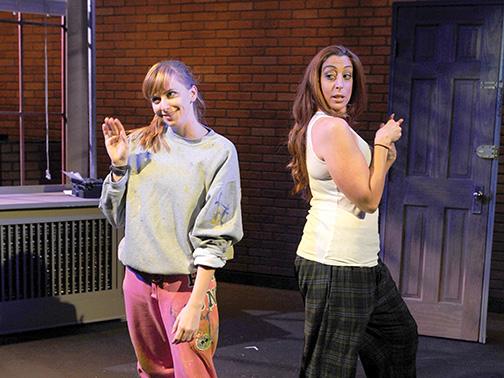 After seeing a splendidly distinctive version of Stephen Sondheim's sung through musical "Marry Me a Little" at the Diversionary Theatre, I had the pleasure of interviewing San Diego State alumna, Mitzi Michaels. Michaels and Sarah Errington starred as lesbian women living in a Brooklyn apartment building. They sang deleted songs from shows such as "A Little Night Music," "A Funny Thing Happened on the Way to the Forum" and "Company."
 The Aztec: How was your first stage experience performing at the Diversionary Theatre?
Mitzi Michaels: Very special, just because of the nature of this show and who I got to work with, it's really been fabulous and very welcoming. Everyone is so kind and so supportive. James Vasquez, our director, has really been a dream to work with, especially for his vision in this show.
 TA: Are you planning to perform at the Diversionary again in the future?
MM: I would love to. Truly, it's so nice for an intimate setting like this in this type of theatre.
 TA: You've also played other memorable roles recently. Describe your recent participation as Lady of the Lake in "Monty Python's Spamalot" at the Welk Theatre.
MM: That was a dream come true. That was really a dream role of mine and to realize that actually happened, I've been so lucky this year to be really welcomed by the San Diego theatre community. I feel blessed I'm making my life and my home here after graduating. There's such a vibrant theatre community and as a newbie in San Diego, it's such a special feeling to be so embraced. Specifically by this town because there's so much heartfelt work being done.
 TA: Tell us about how going to SDSU for your master's degree in musical theater prepared you for shows like these.
MM: During those two years we did intimate shows in the small space SDSU's Experimental Theatre and in the Don Powell Theatre and I think that definitely helped me be really flexible as an actor.
 TA: What advice do you have for anyone pursuing a master's in theatre at SDSU?
MM: It's a hard two years; it's a lot of work and you have to be committed. You have to be a self-starter and really motivated, unlike when you're going for an undergraduate degree, these two years are your opportunity to really polish your skills. I hope the program continues to get more spotlight on it because it is so unique and there are no other programs out there like it. People who really want to teach theatre in college look at SDSU's program and realize how special it is.
 TA: And that degree led you to a wonderful teaching opportunity here in town.
MM: Yes, this is my second semester teaching at the University of San Diego and that is really why I went to SDSU and specifically for their master's program because it's all about preparing you to teach. And it was such a dream of mine for so long, and the program at SDSU- is so special and so unique, the only one of its kind that really gears students to prepare themselves to teach in a collegiate setting.
In my two years there, I really got a lot of time to hone my skills and teach undergraduates at SDSU as a grad student, and that alone really gave me an edge and go in there and show that I was qualified and ready because I'd had training. I also teach at San Diego Junior Theatre and North Coast Repertory Theatre. My summers are filled with little kiddies in summer camps, which is great, and during the rest of the year, I'm at USD, which is awesome. I really love it.
Just teaching theatre, that's all I want to do. And I really appreciate this kind of alumni spotlight because I am here in San Diego, whereas, a lot of my classmates went on to live in other places, which is amazing, but to still be here, I am very proud to have worked for that M.F.A., and when I got this call about this interview, it felt really nice to get acknowledged like that.
Also read: Romance and time travel add up to deep film
Photo courtesy of Ken Jacques