Media center evolves to accomodate students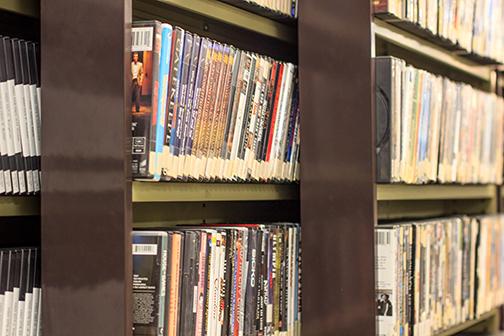 Beneath two flights of stairs under San Diego State's Love Library's glass dome and through a set of doors in the southeast corner, the library media center sits practically empty. Because of its lack of foot traffic, Media Center Supervisor Michael Lapins will personally give any student he sees browsing a tour of the media center's extensive collection.
Throughout the past nine years, Lapin has built one of the most extensive media collections within San Diego County. This collection includes nearly 10,000 DVDs, 15,000 CDs and 15,000 videocassettes, as well as hundreds of titles in other media formats. Lapins is especially proud of the diversity of the collection.
"What makes our collection different is the amount of foreign, obscure and academic pieces that students would not usually have access to," Lapins said.
The media center also offers a variety of viewing rooms that allow students to watch movies and work on video or PowerPoint presentations.
Despite the size of the collection and the services offered, Lapins noticed the number of students using the media center began to shrink significantly around three years ago. He realized the issue was not the services offered, but with what he called "delivery systems."
"This generation of students is used to having their media instantly and the media center is behind on technology in that respect," Lapins said.
In order to keep up with students' quickly evolving technological needs, Lapins has been changing the focus of the media center to provide the services that keep pace with the advancing technological environment.  The center is currently experimenting with lending out camera equipment  to students for in-house use.
Lapins is also aiming to increase the online accessibility of the media collection with checkout logs and a more extensive database. He is currently working with the university and Netflix to possibly offer an online streaming service for media content, but is held back by copyright issues.
One of Lapins' biggest frustrations is the location of the media center. It's not uncommon for students to first stumble upon the media center during their final year at SDSU, Lapins said.
"I didn't even know we were allowed through those doors," linguistics junior Miranda Hoskins said.
Political science graduate student Carlos Gomez only discovered the media center after finishing his undergraduate degree when one of his professors sent him to rent a documentary.
"I had absolutely no idea this was a thing," Gomez said. "Now I'm down here literally every day."
Despite the setbacks, Lapins remains optimistic that the media center can continue to be a viable resource for students.
"My biggest concern is for the student's needs," Lapins said. "Figuring out what those needs are is another thing altogether."
Read more about what the media center offers. 
Photos by Kevin Serrano, Staff Photographer.