LabZone engages community schools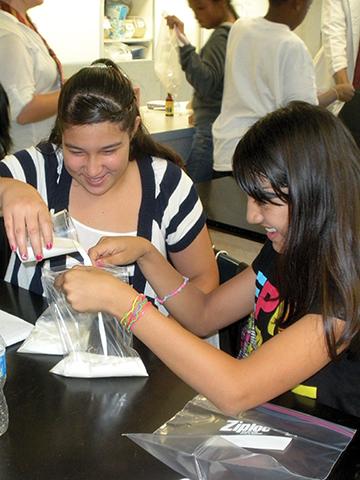 San Diego State's Center for Research in Mathematics and Science Education and Lemon Grove Academy of Sciences and Humanities have partnered for the third consecutive year through LabZone, a service-learning outreach initiative designed for future educators who interact with underserved youth from local schools.
SDSU students enrolled in science 250, the three-unit LabZone course, will design activities and games each week before bringing them to middle school students. Activities including indoor and outdoor games give the students a more hands-on experience as opposed to formal classroom methods. Students use everyday activities to demonstrate the importance of mathematics and science.
Professor of educational psychology and faculty member of CRMSE Alexander Chizhik, who currently instructs and evaluates the SDSU students in the course, said LabZone is beneficial for all participants.
"LabZone enriches the experience for underserved middle schoolers while providing SDSU students the opportunity to use their own ideas of engaging math and science activities, without the limitations of a day-to-day curriculum," Chizhik said. "The result is that LabZone is a place where intercity kids and college students not only learn mathematics and science, but do math and science through engaging hands-on activity. LabZone is the place where kids want to be."
SDSU students are evaluated through field notes based on course readings and their observations of Lemon Grove students during the activity, taking note of the differences between formal and informal learning. The students also analyze the outcomes of the activities they designed and work on improving the material for the Lemon Grove students.
Chizhik said students have consistently responded positively to their assignments.
Lemon Grove Academy of Science and Humanities Principal Rick Oser said the relationship between SDSU and Lemon Grove students goes beyond the academics.
"The futures of the students here at Lemon Grove are not clearly defined," Oser said.  "In addition to the authentic learning opportunities, our students have developed relationships with the SDSU students who often serve as mentors, guides and champions for academic success during middle school and beyond."
He added that LabZone is a win-win situation in which SDSU students gain valuable experience and exposure while Lemon Grove Academy students are mentored by SDSU students.
This fall, LabZone takes place on Wednesdays from 1-3:30 p.m. and Fridays from 2-4:30 p.m. at Lemon Grove Academy, with the first field session starting in September. SDSU students also meet in classes on Mondays from 2-3:50 p.m.
This Wednesday, SDSU students will be able to test the programs they have created for the first time.
Science 250 is offered to all majors for the first time this semester, fulfilling the social and behavioral science general education requirement. The class also meets the Early Field Experience requirement for the SDSU teacher credential program. It will also be available for spring semesters.
LabZone is a collaborative effort between CRMSE, the SDSU Colleges of Science and Education, the Lemon Grove School District, the Subaru of America Foundation, Inc. and the Thomas C. Ackerman Foundation.
Photo Courtesy of the SDSU Center for Research in Mathematics and Science Education.