Vampire Weekend hits it bigger than before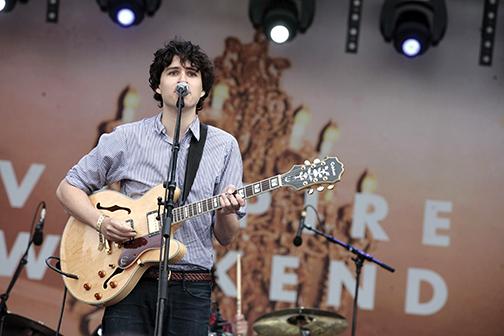 The modern vampires of the city returned to San Diego and what a night it was. Last Monday, indie rock band Vampire Weekend stopped by with pop singer Sky Ferreira to perform at SDSU's Open Air Theater. The band's previous stop in San Diego was at SOMA in 2010 while touring its then new record, "Contra." Now with the release of its new, incredible album "Modern Vampires of the City," Vampire Weekend is hitting it bigger than before.
Starting the show off with the song "Cousins" from "Contra," Vampire Weekend rolled through a great mix of songs chosen from its three records. The band's setlist was a crowd pleaser. Long time fans, or "the OGs" as singer Ezra Koenig called them, even got a special treat as the band played "Boston (Ladies of Cambridge)," a song that predates the band's self-titled debut. No matter at which record fans got into Vampire Weekend, they were bound to hear their favorite single.
The stage setup had a simple touch. Four classical pillars hung from the top and a big mirror-like screen was placed in the center. The screen would show different images in sync with the songs, including the chandeliers on front of the cover for the band's debut. The backdrop would change from a clean white to the floral pattern as seen as a graphic in the band's current merchandise. Save for the strobe lights, nothing too distracting was up on the stage.
Out of its members, bassist Chris Baio was the one to watch. His moves to the beat were an unforgettable piece to the performance. That is not to say the others did not hold their own. Ezra Koenig played it cool as he presented himself on record. Drummer Chris Tomson laid down tight drum beats and guided the fantastic song to song transitions with his kit. Multi-instrumentalist Rostam Batmanglij was seen going back and forth from guitar to keyboard, laying down different key sounds from the band's signature harpsichord to the distorted back vocals featured on the band's latest record.
While Vampire Weekend played a long show with nothing but the hits, it went by far too quickly. "This is a song about a goodbye," Koenig said before he began the last song of the night, "Walcott." Then the crowd gave their last dance to the band's energetic jangle.
Information about Vampire Weekend can be found at vampireweekend.com.
ALSO READ: Music press conferences full of advice for success
Image courtesy of Lefevre Sylvain/Asa-Pictures/Abaca Press/MCT