GREEN Program inspires SDSU student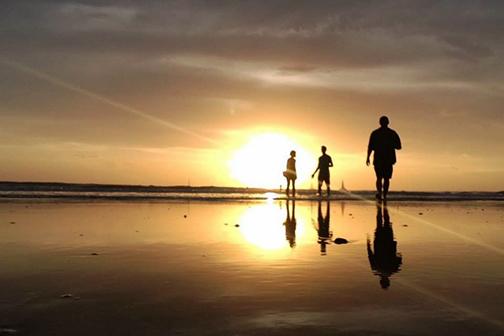 Lush rainforests, striking waterfalls and a rich culture create an idyllic canvas to discover one's identity and passions. After an intensive 12-day study abroad trip to Costa Rica this summer, mechanical engineering junior Eli Ebanks returned to San Diego State with a refreshed focus and inspiration for renewable energy. Through the Global Renewable Energy Education Network Program, Ebanks gained valuable experience in the renewable energy industry while pushing his boundaries in a new culture.
The GREEN Program gives college students an opportunity to learn and work extensively with professionals in leading countries of renewable resources. This program was designed for students whose majors do not allow them traditional study abroad experiences, yet still seek unique learning opportunities. With a group of 14 students from around the world, Ebanks was part of a highly focused learning environment for like-minded individuals.
"We all share the same passion of renewable energy," Ebanks said.
Ebanks' trip to Costa Rica focused on the five areas of renewable energy: wind, solar, biomass, hydroelectricity and geothermal. The program was a combination of intensive hands-on learning activities, adventuresome outings and a concluding capstone project where students worked in teams to address a sustainability issue by designing a new product.
Costa Rica derives 93 percent of its power from renewable energy, which makes it the ideal place for sustainable-seeking students to delve into its energy practices. However, because Costa Rica is powered by renewable resources, its power is much more limited and less efficient than it is in the U.S.
Upon returning to the U.S., Ebanks' perspective immediately changed.
"It made me really open my eyes to how much energy we waste here, how much we take it for granted. Now I'm always the guy who turns off lights. I thought I was pretty sustainable, but I was really humbled when I saw how terrible I, and the rest of Americans, are at conserving energy.
"This experience served as a catalyst or incubator, if you will, for my plans outside of college," Ebanks said.
Ebanks hopes to develop his own wind turbine farm upon graduation. Having already a solid idea of what he wants to accomplish postgraduation, Ebanks' trip with the GREEN Program further instilled his passion for contributing to the sustainable movement.
Aside from diving headfirst into the renewable energy industry, Ebanks found himself embracing the "Pura Vida" lifestyle of the Costa Rican culture. Ebanks described this motto, which translates to "pure life," as, "kind of like hakuna matata." To quote Timon and Pumbaa, "it means no worries for the rest of your days."
"It's a rich culture everyone should be involved in or at least experience," Ebanks said.
With a myriad of memorable moments, one that stands out to Ebanks in particular is an opportunity to play soccer with local children.
"We worked on community service projects, giving back to people that were so welcoming and willing to share their culture with us," Ebanks said. "Being able to live in their culture—it was insane. I'll never forget that."
The GREEN Program challenged Ebanks to push his boundaries and be outside of his comfort zone. Now serving as an SDSU ambassador for the GREEN Program, Ebanks highly recommends students of all majors pursue an experience with this program. From lush rainforests, striking waterfalls and a rich culture, Ebanks' trip to Costa Rica instilled a thirst for environmental change and a passion for the pura vida.
"It's probably the best investment I could have done for myself," Ebanks said.
Photos courtesy of Eli Ebanks.