Public health students educate on Obamacare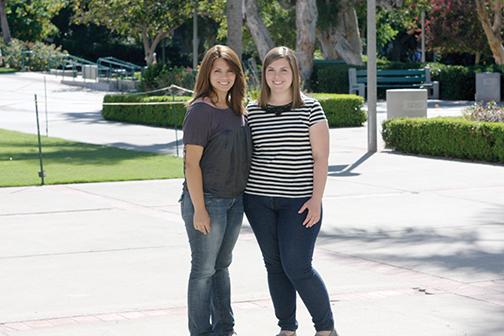 In order to educate students about the new health care exchange, San Diego State graduate students Emily Ackerman and Nicole Jaramillo will be spending the next six months as Campus Coordinators. Offered as part of the California State University system Health Insurance Education Project, the goal will be to inform the campus community about available insurance options.
The project is a grant the CSU system received from Covered California, a private health insurance exchange, to bring outreach and education about health insurance to CSU campuses. The grant employs two students from the SDSU Graduate School of Public Health to better explain the Patient Protection and Affordable Care Act to students and the community. Of the 23 CSU campuses, only 15 schools were chosen to receive the grant. SDSU was one of those schools.
As part of the education process, Ackerman and Jaramillo will be explaining health insurance options by visiting classrooms, tabling and interacting with people on campus. They also plan to hold town hall meetings on campus on Oct. 22 and 23 at 12 p.m. in Hepner Hall 132, and Oct. 24 at 10 a.m. in North Education 73. At the meetings, they will host a Q-and-A seminar to address any community concerns.
"With health insurance, you can have the peace of mind that if an accident did happen you wouldn't have to file for bankruptcy because you didn't have the money to pay for it or drop out of school because you couldn't pay the cost," Ackerman said. "We don't want that to be something that is footed onto our students."
Some of the key items they will discuss in their presentations include how students can stay on their parents' insurance until the age of 26, expanded Medi-Cal cover for everyone whose income is less than $16,000 and low premium options offered through Covered California.
Jaramillo said she has found that a lot of students were previously unaware of this information. She said students also didn't know they could incur a tax penalty for not having insurance.
Art history junior Michele Hauer said it's  wise for college students to have a health insurance plan. She is grateful to have the Calpulli health center as a resource on campus, but suggests students should not rely on it alone.
"While it's great to have a health center right on campus, sometimes a trip to Calpulli will not suffice," Hauer said. "Hospital bills can be expensive, especially for college students, and you don't want to be in a situation where you can't afford to get proper care or treatment."
Health care enrollment began Oct. 1 and will be open until March 31, 2014. Students and community members can enroll by visiting the Covered California website. Coverage plans will begin on Jan. 1, 2014 for those who sign up on or before Dec. 15, 2013,
For more information about Covered California, SDSU students and faculty can visit the Facebook page at www.facebook.com/GetCoveredSanDiegoState or email the graduate students directly at sandiegostatehiep@gmail.com 

Photo by Stephanie Saccente