Beach meets BBQ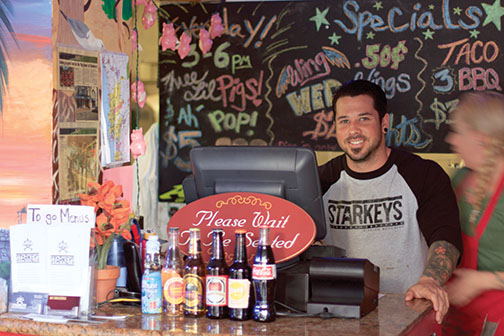 When Ryan Paton graduated from San Diego State, he didn't know what he was going to do with his life, but knew he wanted to own a business.  Little did he know that he would go on to one day co-own a restaurant.
Paton was focused on his studies when he started his academic career at SDSU, but he needed a job where he could work Friday, Saturday and Sunday nights. Working at nightclubs seemed to be the perfect fit for Paton to make enough money and have time for school during the week. Although Paton had to sacrifice social events with friends, he discovered a silver lining.
"While working at the nightclubs I was inspired when I saw a lot of young entrepreneurs with money," Paton said.
After seeing the same wealthy men walk into the nightclubs night after night, Paton became motivated to be self-sufficient and his own boss. He said while working at the nightclubs every weekend he got to know the regulars and heard their stories on how they became successful.
"Having financial freedom is worth a lot to me and not having to worry about living paycheck to paycheck," Paton said.
Paton wanted a job after graduation that would allow him to surf and travel when he wanted, and he knew the office environment was not right for him. When he graduated in 2008 with a degree in philosophy, Paton worked in the human resources department at TAO and Marquee in Las Vegas.
Although Paton didn't use his philosophy degree he said, "studying philosophy was a lot of reading and writing and really changed my work ethic for the better."
One day, Paton overheard a man on the phone talking about a disgruntled investment. Paton engaged with the man and learned that he owned a restaurant.  He saw the opportunity for investment and offered to buy the restaurant rather than the man filing for bankruptcy. Within two weeks, the restaurant was signed over to Paton and he became owner of Starkey's BQQ located in Mission Beach.
"I had a month and a half to close down the restaurant and reopen it the way I wanted," Paton said. "We didn't know what we were doing, but we were here 12 hours a day and we just figured it out."
With the help of friends, experienced business owners and regular customers, Paton got ideas about how he wanted the restaurant to look and the food he wanted to serve.
"I was very humble and knew no one can get to the top by themselves," Paton said.
The first year and a half of starting his business was rough and demanding. Paton said the biggest challenge of opening the restaurant was crafting a menu to please the customers in the summer and winter. He said summer is his busiest time because of tourists coming into town, and the winter months are much slower.
"Good service, food and location are the three key components to running a successful business," Paton said.
Paton said what makes his restaurant unique is he focuses his business on catering to the locals, knowing that if they like it then tourists will be more likely to appreciate the food.
Paton's restaurant is decorated to resemble the beach with surfboards mounted on the ceiling, and waves and sea creatures painted on the walls.  It captures the essence of San Diego so tourists get the full experience of dining by the beach.
The menu is part of the customers' creation.  When deciding on the menu, Paton went with simple and took customers' suggestions, crafting the menu to meet their desires. Starkey's BBQ serves up exactly what customers want in a barbecue restaurant—ribs, pulled pork, beef and chicken sandwiches, hamburgers and salads.  The menu has dishes with fun names such as Pigs Fly! and Cheezy Beefy to keep the theme going of a fun and laid-back environment.
Paton suggests to students wanting to become business owners to make sure they save up and always look for opportunities. Paton adds it is important to always keep in mind what you want so it can happen.
"Figure out what your passion is or what your good at and think of a way you can create a business out of it," Paton said.
Photos by Kevin Serrano, staff photographer